Download PDF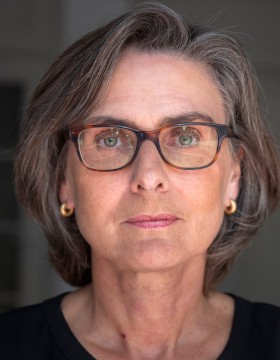 Author: Maurice Weiss
© Wissenschaftskolleg
Permanent Fellow
Barbara Stollberg-Rilinger, Dr. phil.
Rector of the Wissenschaftskolleg, Professor of History
Westfälische Wilhelms-Universität Münster
Geboren 1955 in Bergisch Gladbach, Germany
Studium der Geschichte, Germanistik und Kunstgeschichte an der Universität zu Köln
Project
Grausamkeit, Disziplin und Verzweiflung: Friedrich Wilhelm I. und der preußische Mythos
Friedrich Wilhelm I., der "Soldatenkönig" (1688-1740), traumatisierte seinen Sohn, verprügelte seine Töchter, demütigte seine Beamten, verabscheute die Gelehrten, verachtete den Adel, verspottete die Frauen, war legendär geizig und detailversessen, rauchte, trank, fluchte und tobte, hielt aber peinlich auf Sauberkeit, Drill und strengste Frömmigkeit. Kurzum: Sein bizarres Verhalten desavouierte sämtliche Normen und Werte der zeitgenössischen Eliten. Im Europa seiner Zeit galt er deshalb als lächerlicher Tyrann, dessen Macht früher oder später von selbst zusammenbrechen würde. Das war bekanntlich ein Irrtum. Im preußisch-deutschen Nationalmythos des 19. und 20. Jahrhunderts spielte Friedrich Wilhelm I. die Rolle des großen Staats- und Heeresbaumeisters; selbst kritischen Historikern galt er als derjenige, der "das deutsche Volk zum Preußentum erzog". Daran konnte der Alliierte Kontrollrat 1947 anknüpfen, als er Preußen als "Träger des Militarismus und der Reaktion" von der Landkarte strich.
Ich glaube, dass es heute auf neue Weise interessant sein könnte, sich einem Herrscher zuzuwenden, der die Rolle des Elitenverächters spielte und einen bizarren Außenseiterhabitus kultivierte. Ich stelle mir vor, Friedrich Wilhelm I. in die Geschichte der Männlichkeit und des Körpers, der Emotionen und Verhaltensstile, der Hofkultur und der Frühaufklärung einzuordnen. Dazu möchte ich zunächst einmal seine Rezeptionsgeschichte als ein Lehrstück historischer Mythenbildung analysieren.

Lektüreempfehlung

Stollberg-Rilinger, Barbara. Maria Theresia: Die Kaiserin in ihrer Zeit. Eine Biographie. München: C.H.Beck, 2017. Englisch: Maria Theresa: The Empress in Her Time. Princeton, NJ: Princeton University Press, im Erscheinen.
-. Des Kaisers alte Kleider: Verfassungsgeschichte und Symbolsprache des Alten Reiches. München: C.H.Beck, 2008. Englisch: The Emperor's Old Clothes: Constitutional History and the Symbolic Language of the Holy Roman Empire. New York: Berghahn, 2015.
-. Rituale. Frankfurt/Main: Campus, 2013.
Publications from the Fellows' Library
Stollberg-Rilinger, Barbara
(
Dortmund, 2019
)
Stollberg-Rilinger, Barbara
(
München, 2018
)
Stollberg-Rilinger, Barbara
(
München, 2017
)
Stollberg-Rilinger, Barbara
(
London, 2016
)
Stollberg-Rilinger, Barbara
(
2015
)
Stollberg-Rilinger, Barbara
(
New York, 2015
)
Stollberg-Rilinger, Barbara
(
Würzburg, 2015
)
Stollberg-Rilinger, Barbara
(
2014
)
Stollberg-Rilinger, Barbara
(
Wiesbaden, 2014
)
Stollberg-Rilinger, Barbara
(
München, 2013
)