A Good Bet: Five Years of the College for Life Sciences
by Ulrike Pannasch (Scientific Coordinator of the CfLS)
"Research decisions that scientists make, particularly early on, are high-risk wagers about what will be fruitful and lead to a decent career. The road to academic stardom (and, for that matter, academic mediocrity) is littered with brilliant, passionate people who simply made bad bets."
Adrian Curry, Does Science Need Mavericks?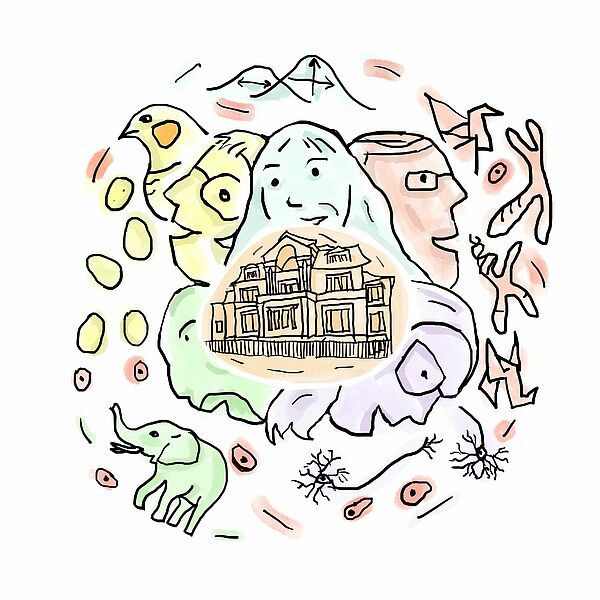 How to help young and passionate life scientists stay on the road to scientific success and avoid bad bets? In 2011, Paul Schmid-Hempel, Joachim Nettelbeck and Raghavendra Gadagkar concluded from their lifetime of experience that early-career life scientists suffered from a lack of time for in-depth reflection. The trio also ascertained a great pressure to conform, particularly early on in life-science careers, which makes truly revolutionary research hard to pursue. This is how the idea for the College for Life Sciences (CfLS) emerged – as a fellowship program which allows young scholars the requisite time to think and grow in the midst of the Wissenschaftskolleg's diverse Fellow community.
Five years have passed since 2012/13 and the CfLS has meanwhile hosted 34 Fellows from all over the world. Up until 2015 they were welcomed by the first CfLS coordinator Giovanni Frazzetto, a biologist himself and Wiko Fellow (2007/8). The Fellows stayed at the Wissenschaftskolleg for three to six months and worked on topics as vast and varied as the life sciences themselves: from evolution and diversity to biochemistry and genetics, from memory formation to social net­works and conservation biology, from quantum effects in biological systems to praying mantises and elephants.
Relieving young life scientists of their demanding academic and scientific obligations has certainly encouraged some of them to ask original and fundamental questions. Why did harmful medicine evolve (Míchaél de Barra)? How do diseases shape societies (Gunther Jansen)? Can science become art (Vivek Nityananda)? It can! See the illustration above. Finding a space for sustained reflection was an opportunity for other scientists to develop their research agenda and lay the foundation for impressive careers. For instance Alipasha Vaziri originally arrived at the Wissenschaftskolleg from the University of Vienna to think about how he could use quantum effects to study biological systems and was the first to image the firing of all neurons in a living organism; he is now professor at the Rockefeller University. With his group at the Collège de France in Paris, Anton Crombach is presently investigating the incredible "origami" used in every cell to fold genomes into their complex 3D structure. Former Fellow (2014/15) Simone Reber is mean­while heading her own group at the Integrative Research Center in Berlin where her team inquires into the question of whether size matters for a cell and how it may determine the dimensions of its building blocks. Kasia Bieszczad, an associate professor at Rutgers University, is in the process of unraveling the neurobiological substrate of memories, and funding recently awarded by the European Research Council to Tina Kretschmer will allow her to investigate whether negative peer expe­riences such as bullying are passed on across the generations.
A period of residency at the College for Life Sciences not only helps a researcher address essential questions and emerge with sophisticated experimental designs but, according to former Fellow Barbara Caspers, "Time at Wiko was time to think, time to network, time to work without distraction, time to focus on future perspectives and time to have fun and enjoy life in between." Her study of birds' recognition of their own relatives via smell made huge progress during her stay and has now been well established through the the wide publication of her results. In addition to working on her own project, Barbara also participated in Tim Caro's landmark workshop "Animal Coloration," which resulted in a review in Science.
Despite these success stories, the program will not rest on its laurels but experience further development in the years to come. First of all, through its worldwide call for applications, the College will continue to increase diversity among its Fellows and more particularly try to attract applied scientists from fields like molecular biology, neuroscience, medicine, biomathematics, biochemistry and biophysics. Overarching problems such as meta-analysis should continue to be at the very heart of discussions – in this context it certainly augurs well that former Fellow (2016/17) Emily Sena was appointed to the scientific board of the QUEST Center of the Berlin Institute of Health, which is the first ever institute expressly striving to increase the value of biomedical research and initiate a culture change in academic biomedicine. Beyond all this, the College will continue its attempts to fully integrate junior researchers into the life of the Wissen­schaftskolleg; in the past two years these have been afforded the opportunity to lead full colloquium ses­sions and chair work­shops. In the long run the program may also profit from taking on a few more Fellows each year.
Every experiment is a bet. Five years in, the College for Life Sciences is a bet that has paid off handsomely. But in science, as opposed to gambling, the one thing more important than betting successfully is to never cease betting.