Travelling Lights – Anna Konik's Solo Exhibition in Warsaw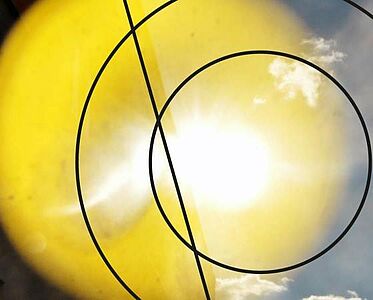 by Katharina Wiedemann
Late last year I found myself packing . . . packing up some of those very characteristic lamps that used to be scattered all over Wallotstrasse 19 (tenderly referred to as dryer hoods), but whose presence has now been restricted to the main hall and the first floor.

Anna Konik, Fellow of the academic year 2008/2009, had asked for official permission to exhibit these fine pieces of early 1980s interior design along with books, yearbooks and magazines as representative fetishes of the Kolleg in her soon to be opening solo exhibition at the Center for Contemporary Art Ujazdowski Castle in Warsaw,A Grain of Sand in the Pupil of the Eye. Video Works 2000 – 2015. It opened on December 4th, 2015 and lasted ten weeks. There were some familiar faces among the Warsaw art-scene crowd that lined up for the opening: co-Fellow Holk Cruse and his wife Beate Cruse, Britta Padberg of the Zentrum für Interdisziplinäre Forschung, as well as Kathrin Biegger, Francisco Martinez, Corina Pertschi and myself who joined in from the Wissenschaftskolleg.

The exhibition covered all of Anna Konik's major works of the past fifteen years: Transparency, In the Middle of the Way, Our Lady's Forever, The Villa of the Entranced, Play Back (of Irene), and In the Same City Under the Same Sky which opened the show with in an impressive installation of 35 screens. This work, which she began in 2011, tackles a subject of great immediacy 2015, namely the many personal stories of women refugees re-told by female citizens of the various countries where these refugees have sought shelter. The Villa of the Entranced, on the other hand, was a project developed during her Fellowship at the Kolleg. Its installation in this show used several monumental video screens and provided ever new encounters with the (deceptive?) familiarity of the Wissenschaftskolleg.

The exhibition was accompanied by a series of talks addressing Anna Konik's work. Among the referees were former Fellows Bernhard Waldenfels and Holk Cruse (both 2008/2009) who have also contributed texts to the catalogue.

Anna Konik was a young and aspiring video artist when she first came to the Wissenschaftskolleg. Now she is in the thick of the contemporary art world and is a force to be reckoned with. The somewhat dim light of the Kolleg's lamps is misleading - for it was a stellar event.