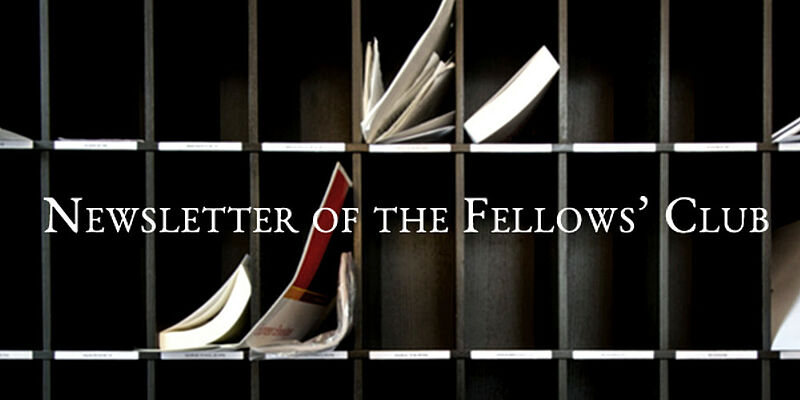 Charles Darwin erred when he declared that the competition between species and individuals was the sole determining principle of evolution! Not only are two biological Focus Groups at the Wissenschaftskolleg this year exploring the developmental-historical advantages of mutualism; all the Fellows of the cohort 2018/2019 are testing cooperation as a means of gaining knowledge. For example, they are meeting regularly in the "Sci-Hum Forum", using joint lectures and debates to bridge the still deep chasm between humanities scholars and natural scientists. For me as the new Rector of the Wissenschaftskolleg – and in this function I would like to cordially greet all the members of the Fellows' Club – this is an enriching insight and experience.
Accordingly, this issue of the Newsletter sheds light on topics that can be explored only in close collaboration between the extended disciplinary families: this includes the œuvre of the Swedish painter Hilma af Klint, which is rich in allusions to nature and science and is being exhibited in the Guggenheim Museum in New York and in the Lenbachhaus in Munich. The art historian Julia Voss (Fellow 2016/2017) accompanied the exhibition as a consultant and answers questions in a video interview. Research on the future of global worlds of work demands a high degree of interdisciplinary collaboration – as Permanent Fellow Bénédicte Zimmermann emphasizes in her report on a new project at the Wissenschaftskolleg. The boundaries between biology and gourmandizing are crossed by bee researcher Kirsten Traynor, who recommends to you the world's best kinds of honey.
Collaboration across disciplinary boundaries is practiced at the Wissenschaftskolleg also in the workshops of the Fellow Forum; former Fellows can apply for a grant to hold one. At the conference held by Peter Kappeler (Fellow 2016/2017), "Female Leadership in Mammalian and Human Societies" (February 21-22, 2019), biologists discussed with social scientists and historians. This year's annual Meeting of the Fellows' Club, whose dates you can already note for future reference, will be held from 13 to 14 June 2019. It will center on Berlin's biggest construction and museum project in years, to which art history and history will contribute as much as will ethnology and the natural sciences. I would be very pleased to greet you at the Kolleg for our extensive program on "A Palace and the World: Berlin's Humboldt Forum".
Cordially yours,
Barbara Stollberg-Rilinger
Rector of the Wissenschaftskolleg