Download PDF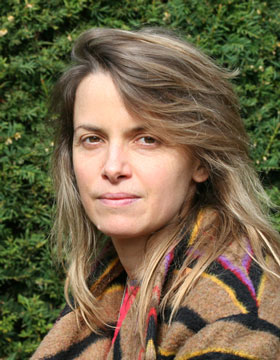 © Wissenschaftskolleg
2016/2017
Julia Voss, Dr. phil.
Journalistin, Leitende Redakteurin der Frankfurter Allgemeinen Zeitung
Frankfurt/Main
Geboren 1974 in Frankfurt am Main
Studium der Germanistik, Kunstgeschichte und Philosophie

Photo: Wissenschaftskolleg
Project
Hilma af Klint und die Evolution der Kunst
Die schwedische Künstlerin Hilma af Klint (1862-1944) begann im Jahr 1906 in Stockholm, abstrakte Bilder zu malen, von denen einige mehrere Meter messen. Überraschend für den heutigen Betrachter sind nicht nur das große Format und das frühe Entstehungsdatum. Bemerkenswert scheint auch, dass af Klint, im Gegensatz zu Künstlern wie Kandinsky, Malewitsch oder Mondrian, ihre avantgardistischen Werke zu Lebzeiten nicht öffentlich ausstellte. In Ausstellungen, an denen sie teilnahm, zeigte sie Porträts und postimpressionistische Landschaften. In ihrem Testament verfügte sie, dass die im Geheimen entstandenen Werke dagegen bis zwanzig Jahre nach ihrem Tod nicht gezeigt werden dürften.
Hilma af Klint war davon überzeugt, dass kommende Generationen ihre Kunst besser verstehen könnten. Mehr noch: Ihrer Ansicht nach musste die Kunst selbst eine Evolution durchlaufen, um nicht nur das Sichtbare abzubilden, sondern dem Unsichtbaren eine Form zu geben. Von dieser Entwicklung handelt das gesamte geheime Oeuvre der Künstlerin, das fast ausschließlich aus Serien besteht. Einer davon gab sie den Titel "Die Evolution". Die Bildsprache der Künstlerin prägen häufig organisch wirkende Abstraktionen. Sie erinnern an Naturphänomene wie Wellen oder Strahlungen, oder auch an Pflanzen, Planeten, Einzeller und Sexualorgane. In der Rezeption von af Klints Werk steht häufig ihr Interesse an Spiritualismus und Okkultismus im Vordergrund. Weniger Aufmerksamkeit hat dagegen ihre Auseinandersetzung mit den Lebenswissenschaften erfahren, ein Forschungsgebiet, dessen Theorie und Praxis sie in ihrer Zeit als Zeichnerin am veterinärmedizinischen Institut in Stockholm kennenlernte. Den Verbindungen von af Klints Kunst zu den wissenschaftlichen und populären Debatten um die Evolutionstheorie werde ich in meinem Forschungsvorhaben nachgehen.

Lektüreempfehlung

Voss, Julia. Darwins Bilder: Ansichten der Evolutionstheorie 1837-1874. Frankfurt/Main: Fischer, 2007 (Englisch: Darwin's Pictures: Views of Evolutionary Theory, 1837-1874. New Haven: Yale University Press, 2010).
-. "Die Kunstgeschichte muss umgeschrieben werden." Frankfurter Allgemeine Zeitung (24. Februar 2013).
-. "Hilma af Klint and the Evolution of Art." In Hilma af Klint: Painting the Unseen. Ausstellungskatalog, Serpentine Gallery. London: Koenig Books, 2016.
Tuesday Colloquium, 15.11.2016
Hilma af Klint: The Artist Whom MoMA Dares Not Mention
Hilma af Klint is one of the great rediscoveries of art historians in recent decades. Born in 1862, when the Swedish artist died 82 years later she left behind more than a thousand paintings and expressed the wish that these not be shown for another twenty years. Klint enjoyed an official reputation among contemporaries as a painter of portraits and landscapes; but unofficially, as it were, she simultaneously painted pictures that were far removed from the representational conventions of her epoch, and starting in 1906 these pictures of hers numbered abstraction as one of its expressive forms - all this long before Kandinsky, Malevich and Mondrian began to execute non-representational paintings of their own.

The question as to what place af Klint and her work should assume in the history of modern art has led to a controversy. The large-scale retrospective staged by the Moderna Museet in Stockholm in 2013 designated her a "Pioneer of Abstraction" and thereby placed her among the founders of abstract painting in the twentieth century. By contrast the Museum of Modern Art (MoMA) in New York deigned no mention of Hilma af Klint in even a single footnote of its catalogue for the comprehensive exhibition "Inventing Abstraction. 1910-1925: How A Radical Idea Changed Modern Art." Several weeks ago an article in The New York Times demanded that MoMA finally stage a "Modern-style retrospective" for Hilma af Klint, "someone completely outside its carefully elaborated narrative who was nonetheless one of Europe's earliest abstract painters."

Just what is it that makes Klint's work so controversial? What makes it so exceptional? I first encountered Klint's paintings in 2008 and since then have regularly written articles on her for the Frankfurter Allgemeine Zeitung, most recently in a catalogue occasioned by an exhibition in London's Serpentine Gallery. Klint's art has succeeded in shaking the pillars of the modern-art edifice like a tectonic quake. In my lecture I will elaborate for you just why I am so persuaded that the rediscovery of Hilma af Klint should occasion a rewriting of art history.
Publications from the Fellows' Library
Voss, Julia
(
27112013
)
Voss, Julia
(
Frankfurt am Main, 2020
)
Voss, Julia
(
2018
)
Voss, Julia
(
2018
)
Voss, Julia
(
New York, NY, 2018
)
Voss, Julia
(
Berlin, 2015
)
Voss, Julia
(
2013
)
Voss, Julia
(
2013
)
Voss, Julia
(
2013
)
Voss, Julia
(
Göttingen, 2013
)