Download PDF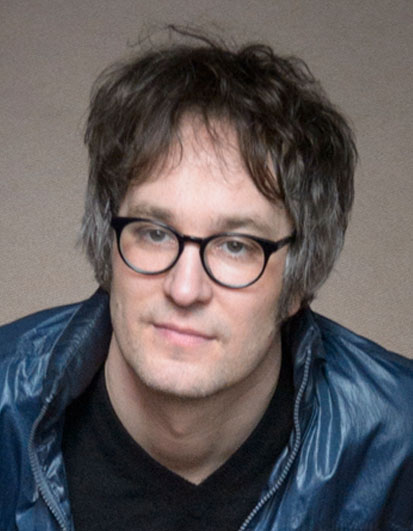 © Maurice Weiss
2014/2015
Hans Thomalla, Doctor of Musical Art (DMA)
Associate Professor of Music Composition
Northwestern University, Evanston
Born in 1975 in Bonn
Studied Composition at the Hochschule für Musik und Darstellende Kunst Frankfurt, and Musical Art in Music Composition at Stanford University
Project
Kaspar Hauser - an Opera
Kaspar Hauser was a foundling who appeared in the city of Nuremberg in May 1828 without any identity, mumbling and moaning unintelligibly and mimicking the expressions of his surroundings. Key figures of the town as well as a curious public created a biography for him through a mixture of suggestive questioning and plain imagination: the story of a young man who was supposedly held prisoner for all his childhood. Hauser's lack of any kind of social and personal narrative fascinated his contemporaries: they were in constant need to fill the void through investigation, research, questioning, and experiments on him and with him until his death a few years after his first appearance. This eventually violent desire to fill the blank pages of his biography as well as the specific form of verbal and nonverbal expression reported about him make opera a perfect medium to tell Hauser's story. Both aspects point to its relevance today - a time of increasingly streamlined communication and of constant demand for defined identity. Hauser's resistance to rationalized expression and clear-cut identity make him an outsider today just as much as during his own life.
The opera is a commission by the Theater Freiburg, and its premiere is planned for the Season of 2015/16.

Recommended Listening

Thomalla, Hans. Fremd. CD, 2012. Complete recording of the Opera. Staatsoper Stuttgart; Annette Seiltgen, Chorus and Orchestra of the Stuttgart Opera, Johannes Kalitzke; Col Legno.
-. Momentsmusicaux. wild.thing. Cello Counterpart. Stücke Charakter. CD, 2008. Lucas Fels, Ensemble Recherche. Edition Zeitgenössische Musik (Wergo).
Tuesday Colloquium, 15.01.2015
"Whatever is sung is the case" The Contradictions and Prospects in Contemporary Opera
Die zeitgenössische Oper muss sich mit einem grundsätzlichen Widerspruch auseinandersetzen: Einerseits ist die wichtigste musikalische Entwicklung des 20. Jahrhunderts die Befreiung des Klangs. Der Bruch mit der Tonalität (und ihren ideologischen Beschränkungen) hat ein riesiges Potenzial an Klängen freigesetzt, die nichts repräsentieren, sie sind "Klänge als Klänge" - ein Projekt mit offenem Ende, dem ich mich stark verpflichtet fühle. Andererseits erzählt die Oper per definitionem Geschichten, in denen die Musik dazu verwendet wird, etwas anderes zu erzählen als sich selbst.

Im ersten Teil meines Donnerstagskolloquiums möchte ich genauer auf diese zentrale Herausforderung der zeitgenössischen Oper eingehen. Im zweiten und Hauptteil möchte ich Ihnen meine Oper "Fremd" vorstellen und auf welche Weise ich dieser Herausforderung hier begegne. "Fremd" beruht auf der Geschichte von Medea und den Argonauten. Der Konflikt zwischen Musik als einem funktionalisierten und rationalisierten Objekt, das von der Wirklichkeit "spricht", und Musik als einer eigenständigen und unmittelbaren Klangwirklichkeit wird in der Oper als Konflikt zwischen den rationalisierenden Griechen und Medea verarbeitet - sie ist das unbegreifliche Andere von Jason und den Argonauten. Zum Schluss meines Beitrags möchte ich darlegen, wie ich in meinem aktuellen Opernprojekt "Kaspar Hauser" mit diesem Widerspruch umgegangen bin.











Publications from the Fellows' Library
Thomalla, Hans
(
[Chicago, Ill.], 2013
)
Thomalla, Hans
(
Wien, Salzburg, 2012
)
Thomalla, Hans
(
2012
)
Thomalla, Hans
(
Stuttgart, 2011
)
Thomalla, Hans
(
2011
)
Thomalla, Hans
(
[S.l.], 2011
)
Thomalla, Hans
(
[S.l.], 2010
)
Thomalla, Hans
(
s.l., 2010
)
Thomalla, Hans
(
Mainz, 2008
)
Yearbook Article
2014/2015
Lectures & Keynotes
05/06/15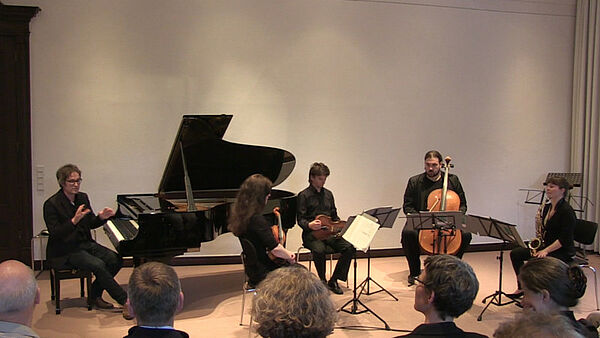 Hans Thomalla, Nicolas Hodges, Ensemble LUX NM – "MOMENTSMUSICAUX"
Workshop (Convener)
06/28/17
Sound and Story
Workshop
06/28/17
Sound and Story