Download PDF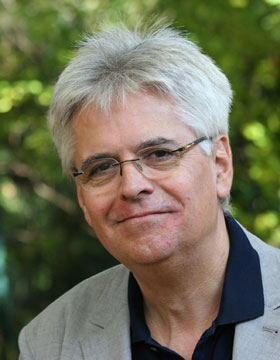 © Wissenschaftskolleg
2019/2020
Ulrich Rudolph, Dr. phil.
Professor für Islamwissenschaft
University of Zurich
Geboren 1957 in Offenbach am Main, Deutschland
Studium der Islamwissenschaft, Geschichte und Philosophie an der Goethe-Universität Frankfurt am Main, der Ruhr-Universität Bochum und der Eberhard Karls Universität Tübingen
Project
Konzepte von Philosophie in der islamischen Welt
Seit die islamische Philosophie im 19. Jahrhundert zu einem Gegenstand der Forschung geworden ist, gab sie immer wieder Anlass zu Debatten. Sie betrafen nicht nur einzelne Denker und Sachthemen, sondern auch die grundsätzliche Frage, wann überhaupt eine Philosophie in der islamischen Welt bestanden habe und wie diese inhaltlich zu beschreiben sei. Die Antworten darauf divergieren stark. Einige Autoren favorisieren einen Philosophie-Begriff, der ganz an die griechische Tradition angelehnt ist (woraus sie in der Regel folgern, dass die islamische Philosophie um 1200 mit Averroes endete), andere sprechen von einem spezifisch "islamischen Denken" (das dann erst ab dem 12. Jahrhundert nachweisbar sein soll), wieder andere von "orientalischer Weisheit". Allen gemeinsam ist jedoch, dass sie jeweils von einem einzigen Konzept ausgehen, auf das die gesamte Philosophie in der islamischen Welt reduziert werden soll.
Dieses restriktive und methodisch problematische Vorgehen stellt mein Projekt infrage. Es geht von der Annahme aus, dass philosophische Traditionen immer eine innere Vielfalt aufweisen. Das gilt für die europäische Philosophiegeschichte ebenso wie für jene in der islamischen Welt oder anderswo. Konkret dürften sich zwei Achsen von Pluralität unterscheiden lassen, die durch die Ergebnisse der neueren Forschung zunehmend Bestätigung finden: eine diachrone, die besagt, dass im Verlauf der islamischen Geschichte unterschiedliche Konzepte von Philosophie entwickelt wurden und dominierten. Und eine synchrone, insofern jede Epoche – auch die Zeit bis 1200, die stark vom griechischen Erbe geprägt war und deswegen häufig als Einheit betrachtet wird – für sich noch einmal eine Binnendifferenzierung von Konzeptionen erkennen lässt. Das zu reflektieren und auf die historiografische Praxis anzuwenden ist Ziel meines Projekts, das seinen Niederschlag in Publikationen, einem Workshop mit Fachkolleg*innen und öffentlichen Veranstaltungen finden soll.

Lektüreempfehlung

Rudolph, Ulrich. Islamische Philosophie: Von den Anfängen bis zur Gegenwart. München: Beck, 2018, 4. Aufl.
-, Hg. Grundriss der Geschichte der Philosophie (Ueberweg). Philosophie in der islamischen Welt, Band 1: 8.-10. Jahrhundert. Basel: Schwabe, 2012; englische Übersetzung: Leiden, 2017.
-. Al-Maturidi und die sunnitische Theologie in Samarkand. Leiden: Brill, 1997; englische Übersetzung: Leiden, 2015.
Tuesday Colloquium, 17.12.2019
Concepts of Philosophy in the Islamic World
Although philosophy in the Islamic world has long attracted the attention of researchers, there are certain fundamental problems that not only remain unsolved but are more hotly disputed than ever. Among these is the question as to just how the concept of philosophy should be understood when applied to the Islamic world over the longue durée and especially in the period following Averroes; that is to say, after the year 1200 A.D. There are varying views among scholars which range from "Greek philosophy" to "Islamic thought" and "Oriental wisdom" to "paraphilosophy." But they would all appear to be problematic, in particular because each of them reduces philosophy to a single narrowly defined conceptual spectrum.

The goal of my lecture is to throw these definitions into question and broaden our perspective. To this purpose I will first introduce and briefly characterize the four most important paradigms spawned by the scholarship since the nineteenth century. Then the actors themselves - i.e. the Islamic authors - will have their chance to speak. Through the use of certain select examples I will show how assorted were the ways in which those philosophers and historians of ideas who exerted an influence in the Islamic world between the tenth and fifteenth centuries sought to describe their own discipline and its history. Both this and the heterogeneity of scholarly views suggest that in each case the philosophical discourse was multifarious and can only be adequately depicted if the heuristic instruments employed to investigate it are able to accommodate this complexity.


Publications from the Fellows' Library
Rudolph, Ulrich
(
Basel, Schweiz, 2021
)
Rudolph, Ulrich
(
Basel, 2021
)
Rudolph, Ulrich
(
Basel, Schweiz, 2021
)
Rudolph, Ulrich
(
Leiden, Bosten, 2020
)
Rudolph, Ulrich
(
Berlin, Boston, 2019
)
Rudolph, Ulrich
(
Berlin, 2019
)
Rudolph, Ulrich
(
Paris, 2019
)
Rudolph, Ulrich
(
Stuttgart, 2018
)
Rudolph, Ulrich
(
Freiburg, München, 2018
)
Rudolph, Ulrich
(
Boston, Mass., Berlin, 2018
)