Download PDF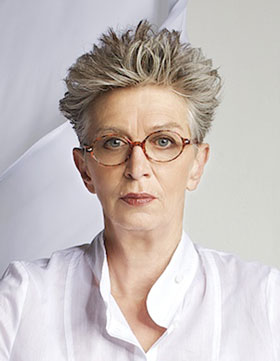 © Twoj Styl Polish Monthly
2015/2016
Anda Rottenberg, Dr.
Fine Arts, Art History; Curatorial Studies, Curator and Art Critic
Warsaw
Born in 1944 in Novosibirsk
Studied Art History at the University of Warsaw
Project
Judith - Salome - Ophelia: the Representation of Some Female Characters in European Art in the Light of Contemporary Gender Studies
Besides the Virgin Mary and a few popular holy saints (like Anna, Barbara, Agnes, Maria Magdalena) who were depicted in a nice and peaceful manner, several other women characters drew special attention from artists for many centuries. They were represented in art from the Renaissance period to the 20th century in a great variety of poses and situations. The artists chose biblical heroines like Judith or Yael, real historical figures like Lucretia and Cleopatra or the personalities popular in the Christian tradition like Salome or St. Theresa d'Avila to become subjects of their art, mainly paintings and sculptures. The 19th- and 20th-century artists extended their interest to cover the only female character that was not derived from the religious Christian tradition, but from drama. Their heroine became Shakespeare's Ophelia, the victimized fiancée of Hamlet.
In the course of five centuries, the representation of these characters differed not only in accordance with the changes of the consequent historical styles and particular schools, but also due to the different interpretation of the same tale drawn from the current philosophical and theological flows and possibly to political needs in the given period and place.
My interest is to trace these causalities in the light of contemporary gender studies.

Recommended Reading

Rottenberg, Anda. Tür an Tür: Polen - Deutschland; 1000 Jahre Kunst und Geschichte [Exhibition in the Martin-Gropius-Bau, Berlin from 23. 9. 2011 to 9. 1. 2012]. Cologne: DuMont, 2011.
-. Prosze bardzo [Bitte schön]. Warsaw: Wydawnictwo W.A.B, 2009.
-. "Sztukaw Poisce 1945-2005" [Art in Poland 1945-2005]. Warsaw: Wydawn. Piotra Marciszuka "Stentor", 2007.
Tuesday Colloquium, 24.05.2016
Adolescent's Perspective
Every year new studies are published throughout the world on artwork that explores the trauma engendered by the Second World War as well as its collective memory. These studies may in fact already outnumber the works themselves, yet there is no end of them in sight. Successive generations of artists continue to draw attention to ever-new aesthetic aspects that hone, reshape and ultimately refresh those existing patterns of collective memory which have developed over the decades. Successive generations of researchers have likewise returned to well-known works to excavate them for previously overlooked meanings and aspects. One such aspect, shared by a significant group of artists, relates to that particular period in their lives when they experienced the war, namely during their adolescence.

Adolescence is often perceived as traumatic in and of itself. Depending on the young person's circumstances - their family life, peer relationships, the nature of their sexual initiation, and the educational system they experience - this period can have a decisive influence on the entire course of his or her life. Such factors as the death of a parent and the demoralizing and obscene experience of war create the conditions for a "syndrome of wartime adolescence" that carries its own unique stigma.

My interest is in the "war-tainted" work of three representatives of this generation: the painter Andrzej Wróblewski (1927-1957), the sculptor Alina Szapocznikow (1926-1973) and the film director Andrzej Wajda (b. 1926). Besides being born around the same time and having lost their fathers at an early age, they shared the experience of growing up in a particular place and time. The Second World War broke out in Poland on 1 September 1939, lasting for six years, and each and every part of the country saw unprecedented crimes perpetrated against its population. These three artists witnessed and participated in events that would leave a particular mark on their lives and work; they were additionally influenced by postwar politics and the ideology that was imposed by the communist regime and which thus suppressed Poland's collective memory for at least four decades.

The process of rereading the oeuvre of Andrzej Wróblewski and Alina Szapocznikow was begun almost twenty years ago and is still underway; Andrzej Wajda's output still awaits reinterpretation. My presentation is an excerpt from a larger survey I am conducting with respect to the attitudes of the aforementioned artists toward the Second World War and its memory.

Publications from the Fellows' Library
Rottenberg, Anda
(
Katowicach: Muzeum Śląskie, 2018
)
Rottenberg, Anda
(
Warszawa, 2018
)
Rottenberg, Anda
(
2016
)
Rottenberg, Anda
(
2016
)
Rottenberg, Anda
(
Berlin, 2016
)
Rottenberg, Anda
(
Köln, 2016
)
Rottenberg, Anda
(
Budapest, 2016
)
Rottenberg, Anda
(
Katowice, 2015
)
Rottenberg, Anda
(
Warszawa, 2015
)
Rottenberg, Anda
(
2015
)