Download PDF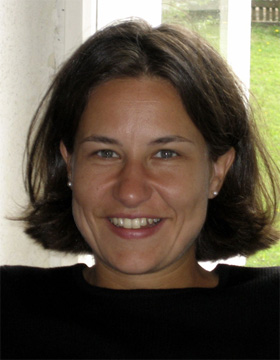 © privat
2014/2015
Andrea Kern, Dr. phil.
Professorin der Philosophie
University of Leipzig
Geboren 1968 in Heilbronn
Studium der Philosophie, Germanistik und Theater- und Filmwissenschaften an der Freien Universität Berlin, der Ruhr-Universität Bochum und der Université Paris 1 Panthéon-Sorbonne
Project
Die anthropologische Differenz
Die zeitgenössische Diskussion um die Frage, was den Menschen vom Tier unterscheidet, ist in zwei unbefriedigenden Alternativen gefangen: der Position des Assimilationismus, der nur einen graduellen Unterschied sieht, und der Position des Differentialismus, der eine grundsätzliche Differenz behaupten möchte, indem er versucht, eine allein den Menschen auszeichnende Fähigkeit zu identifizieren. Meinem Forschungsprojekt liegt die Hypothese zugrunde, dass wir dieses Dilemma auflösen können, wenn wir uns auf den Gedanken einlassen, dass das, was den Menschen vom bloßen Tier unterscheidet, nicht eine bestimmte Fähigkeit ist, die beim Menschen hinzukommt und ihn zu Dingen befähigt, die den anderen Tieren versagt sind. Der Unterschied zwischen Mensch und Tier besteht vielmehr in einer anderen Art und Weise der Einheit aller Fähigkeiten.
Mit dieser Annahme geht der Vorschlag einher, dass der Begriff der Vernunft, der in den klassischen philosophischen Bestimmungen des Menschen - als animal rationale - verwendet wird, um den Menschen auszuzeichnen, nicht so verstanden werden sollte, als benennte er eine hinzukommende Fähigkeit. Der Begriff der Vernunft, so würde aus unserer Hypothese folgen, bezeichnet in diesen Bestimmungen keine bestimmte Fähigkeit, die das Tier, welches der Mensch ist, hat: und zwar weder eine Fähigkeit, die ihn über das Tiersein erhebt, noch eine Fähigkeit, die bei ihm einen höheren Grad der Komplexität hat als bei anderen Tieren. Der Begriff der Vernunft bezeichnet vielmehr eine genuine Form des Tierseins. Er beschreibt die Art und Weise, wie der Mensch als Tier lebt.

Lektüreempfehlung

Kern, Andrea. Quellen des Wissens: Zum Begriff vernünftiger Erkenntnisfähigkeiten. Frankfurt: Suhrkamp, 2006.
-. Schöne Lust: Eine Theorie der ästhetischen Erfahrung nach Kant. Frankfurt: Suhrkamp, 2000.
-. "Knowledge as Fallible Capacity." In Conceptions of Knowledge, herausgegeben von Stefan Tolksdorf, 215-244. Berlin: de Gruyter, 2011.
Tuesday Colloquium, 24.02.2015
The Anthropological Difference
When we ask what distinguishes humans from other animals then the presupposition underlying such a question is that humans are similar to animals in a number of ways. For instance no one asks what distinguishes humans from tectonic plates or a vending machine. Above all humans are like other animals in that they are animals. It would then seem to follow that humans resemble other animals in all those respects that define animals as animals and therefore possess all such characteristics as make them animals as opposed to, say, stone plates or high rises or clouds. And if indeed this is the case then the anthropological difference should perforce lie in a feature that human beings exhibit in addition to the abovementioned characteristics - those that they possess in virtue of being animals.

The search for this feature orients research in contemporary philosophy, primatology and evolutionary biology. Traditionally and as a rule this feature has been abstractly described through the word "reason." The question I pose is what, precisely, is the difference designated by this term. I should like to suggest that it is misguided to believe that the term "reason" designates a specific ability inherent in human beings that is added to their animal abilities. Instead it designates a specific manner in which human beings possess animal abilities. In short it describes a specific form of being an animal.

Publications from the Fellows' Library
Kern, Andrea
(
2010
)
Kern, Andrea
(
2006
)
Kern, Andrea
(
Frankfurt am Main, 2006
)
Kern, Andrea
(
2000
)
Kern, Andrea
(
Frankfurt am Main, 2000
)