Download PDF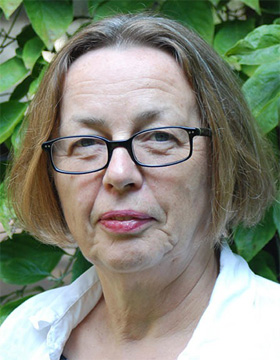 © privat
2014/2015
Barbara Hahn, Dr. phil.
Distinguished Professor of German Literature and Culture
Vanderbilt University Nashville, Tennessee
Geboren 1952 in Esslingen
Studium der Germanistik, Philosophie und Geographie an der Technischen Universität Berlin, der Freien Universität Berlin und der Philipps-Universität Marburg
Project
Im Traum: Streifzüge durch das 20. Jahrhundert
Das vergangene Jahrhundert hat uns ein seltsames Erbe hinterlassen: Zahllose Traumnotate, knappe, oft recht karge Aufzeichnungen, zu finden in Briefen und Tagebüchern, in Autobiografien und Romanen. In diesen Geschichten verbirgt sich etwas, das unbedingt weitergegeben werden musste. Sie stehen nicht in der Tradition, die Sigmund Freud am Anfang des vergangenen Jahrhunderts stiftete. In seiner Traumdeutung fragen Träume nach einem anderen Text: Sie wollen aufgeschlüsselt sein. Traumnotate ohne Deutung führen in andere Welten; in ihnen zeigen sich Konturen einer verborgenen Geschichte, an der viele, viele mitgeschrieben haben. Im unausgesprochenen Einverständnis, dass im Modus des "Traums" etwas Unabdingbares mitteilbar wird. Die Träumer sind wacher im Traum. In der Traumwelt finden sie Szenen und Bilder, die auf das verweisen, was sich jeder Darstellung entzieht. Für viele bot das vergangene Jahrhundert nichts weiter als ein Leben im Albtraum; es zwang sie in Wirklichkeiten, von denen sich vorher niemand hätte träumen lassen. In fünf Zugängen versucht das Buch, diesen seltsamen Texten Raum zu geben. Das Träumen, so zeigt sich, hat an der Geschichte teil, wie Walter Benjamin im Pariser Exil schrieb.
"Dass es viele Sprachen gibt": Hannah Arendt zwischen Deutschland und Amerika
Den Deutschen fehle ein "Sinn für Politik", den Amerikanern "ein leichter Dunst auch nur von Philosophie", so Hannah Arendt in einem Brief an Karl Jaspers. Um dem zu begegnen, schrieb Arendt für Öffentlichkeiten, die unterschiedlicher nicht hätten sein können: Fast alle Bücher und Aufsätze, die sie nach dem Krieg verfasste, sind in beiden Sprachen überliefert, wobei die Fassungen durchaus keine Übersetzungen sind. Werden sie im Hin und Her der Sprachen gelesen, zeigt sich, wie entschieden Arendt daran arbeitete, den Deutschen politisches, den Amerikanern philosophisches Denken zu eröffnen. Das eine erwies sich so unabdingbar wie das andere.

Lektüreempfehlung

Hahn, Barbara, Hg. Rahel. Ein Buch des Andenkens für ihre Freunde. 6 Bde. Göttingen: Wallstein-Verlag, 2011, zweite Aufl.: 2011.Hannah Arendt: Leidenschaften, Menschen und Bücher. Berlin: Berlin-Verlag, 2005. Taschenbuchausgabe: Berliner Taschenbuch-Verlag, 2007.
-. Die Jüdin Pallas Athene: Auch eine Theorie der Moderne. Berlin: Berlin-Verlag, 2002. Taschenbuchausgabe, Berliner Taschenbuch-Verlag, 2005. Englishe Ausgabe:The Jewess Pallas Athena: This -. Too a Theory of Modernity. Princeton, N.J.: Princeton University Press, 2005.

Tuesday Colloquium, 06.01.2015
Dreaming: Excursion into the Twentieth Century
"'The dead still live: for they appear to the living in dreams.' So reasoned mankind at one time, and through many thousands of years," wrote Friedrich Nietzsche in "Human, All Too Human". "In the dream, mankind, in epochs of crude primitive civilization, thought they were introduced to a second, substantial world: here we have the source of all metaphysic." In the course of the last century this distinction seems to have disappeared. People who call themselves living dead dwell on this planet, and the dead seem to dream those who live.

Using three approaches I will read texts called "dream" or which are structured like a dream in order to explore how the meaning of death, dream and life changed over time:

- Lazarus in the camps.

- "Thou shalt not return! Dead is dead."

- The dead - are they dreaming?







Publications from the Fellows' Library
Hahn, Barbara
(
Göttingen, 2021
)
Hahn, Barbara
(
Göttingen, 2019
)
Hahn, Barbara
(
Göttingen, 2018
)
Hahn, Barbara
(
Göttingen, 2018
)
Hahn, Barbara
(
Berlin, 2017
)
Hahn, Barbara
(
Berlin, 2016
)
Hahn, Barbara
(
2012
)
Hahn, Barbara
(
2012
)
Hahn, Barbara
(
2012
)
Hahn, Barbara
(
Göttingen, 2012
)
Yearbook Article
2014/2015
Zeitschrift für Ideengeschichte
Feminismus zwischen zwei Kriegen
Heft XIV/4 Winter 2020