Download PDF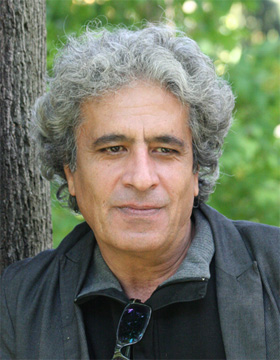 © Wissenschaftskolleg
2013/2014
Shahriar Mondanipour
Author
Tehran
Born in 1957 in Shiraz, Iran
Studied Political Sciences at Tehran University
Project
Writing a Novel
I plan to start and hopefully finish a new novel that I was considering writing while still living in Iran. I had constructed some of its scenes in my mind, and because I did not feel safe in my country, I wrote my notes in a way that only I could read and understand. More recently, I have continued structuring the story and developing various scenes.
The novel is about a political prisoner who loves and admires the art of cinema. He has seen many of the world's artistic films on videocassettes and later on CDs that he found in Tehran's black markets.
Now, in solitary confinement for several months that seem to last forever, he tries to find a way to resist, to survive, and to not lose his sanity: recalling and envisioning scenes from the beautiful movies he has seen. He tenaciously forces his memories of these films to resurface and ...
[I believe writers should not talk or write about the work they are going to write. It injures the freedom of that work's creativity and imagination.]

Recommended Reading

Mondanipour, Shahriar. Censoring an Iranian Love Story. New York: Knopf, 2009. German translation: Eine iranische Liebesgeschichte zensieren. Frankfurt/ Main: Büchergilde Gutenberg, 2010.