Download PDF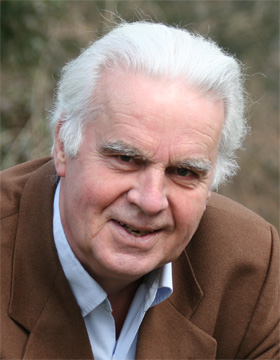 © Wissenschaftskolleg
2012/2013
Uwe Pörksen, Dr. phil.
Professor (emer.) of German Language and Ancient Literature
Albert-Ludwigs-Universität Freiburg
Geboren 1935 in Breklum, Kreis Husum
Studium der Germanistik, Geschichte und Philosophie in Freiburg/Breisgau, Göttingen und Kiel
Project
The Wissenschaftskolleg's Beginnings
Ich plane ein Porträt des ersten Fellow-Jahrgangs am Wissenschaftskolleg zu Berlin 1981/82, fragmentarisch versteht sich, aber doch so, dass die Anfänge der Institution sichtbar werden und manches von der ersten Stunde im Gedächtnis bleibt. Ich habe diese Zeit als ungemein intensiv erlebt und vom Oktober 1981 bis zum Juli/August 1982 eineinhalb Tagebücher vollgeschrieben. Der Gedanke, diese Zeit in einem schmalen Buch festzuhalten und dazu das Archiv des Wissenschaftskollegs zu nutzen, reizt mich sehr.
Der Stoff liegt mir vor Augen; da gab es die Eröffnung des Kollegs und eine erste heftige Auseinandersetzung mit der Freien Universität und einer weiteren Öffentlichkeit, die Herausbildung einer umstrittenen Tagesordnung und des Stils des Hauses. Es gab den Rektor Peter Wapnewski, das Haus und die Stadt und eine Gruppe von siebzehn extrem verschiedenen Fellows. Die Geschichte spielte herein, die Stadt zur Zeit der Mauer. Die Gruppe unserer vier polnischen Fellows rückte zusammen, als Jaruzelski in Warschau Staatschef wurde; es gab die Debatte über den atomaren Raketenschirm auf deutschen Boden und den Ausflug Englands zu den Falkland-Inseln. Das Eigentliche aber war die Möglichkeit, sich die Themen, Vorgehensweisen und Standorte anderer Fellows vor Augen zu führen und mit den eigenen Schritten zu vergleichen - eine sprungartige Horizonterweiterung. Einige damals von uns diskutierte Themen sind mit erhöhter Brisanz wiedergekehrt. Ich erinnere mich lebhaft an Gershom Scholem und den israelischen politischen Systemanalytiker Yehezkel Dror, an Mazzino Montinari, Ivan Illich, Hartmut von Hentig, Helga Nowotny, Rudolf zur Lippe und Dietz Bering.
Die Form des Ganzen muss sich entwickeln. Etwas locker Fragmentarisches, zusammengehalten durch Erzählung - so stelle ich es mir im Augenblick vor.

Lektüreempfehlung
Pörksen, Uwe. Riß durchs Festland. Roman. Heide, Holst.: Boyens Buchverlag, 2011.
- Plastikwörter: Die Sprache einer internationalen Diktatur. Stuttgart: Klett-Cotta, 2011.
- Die politische Zunge: Eine kurze Kritik der öffentlichen Rede. Stuttgart: Klett-Cotta, 2002.
Publications from the Fellows' Library
Pörksen, Uwe
(
2015
)
Pörksen, Uwe
(
Halle, 2015
)
Pörksen, Uwe
(
2014
)
Pörksen, Uwe
(
München, 2014
)
Pörksen, Uwe
(
2011
)
Pörksen, Uwe
(
Mainz, 2008
)
Pörksen, Uwe
(
2007
)
Pörksen, Uwe
(
2005
)
Pörksen, Uwe
(
Göttingen, 2005
)
Pörksen, Uwe
(
Göttingen, 2004
)