Download PDF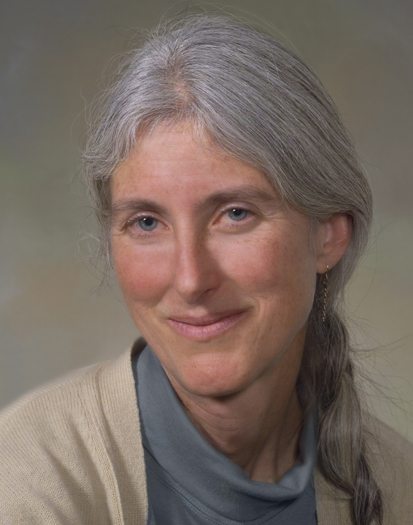 2010/2011
Mary Poss, DVM, Ph.D.
Professor of Biology and of Veterinary and Biomedical Sciences
Pennsylvania State University
Born in 1953
Studied Zoology at Duke University, Durham, Biochemistry at the
University of New Hampshire, Durham, Veterinary Medicine at
Ohio State University, Columbus, and Experimental Pathology at
Colorado State University, Fort Collins
Focus
Limits to Disease Control - Failures in Disease
Project
Integrating Theory and Experimentation to Study Disease Resistance in Natural Systems
I will be participating in an interdisciplinary working group organized by Janis Antonovics, which will explore the heterogeneity of genetic features limiting disease in some individuals. This working group aims to bring evolutionary and ecological expertise to investigate the nature and evolution of genetic systems dictating disease resistance. My expertise is in pathology and molecular biology and my contributions to this group will be in merging the molecular mechanisms of disease resistance with the population genetics and evolutionary biology expertise of participants. Additionally, I would like to chart a path that brings evolutionary theory that could emerge from this group together with the increasingly abundant genomic data available for many species in order to consider applications for treatment and disease intervention in diverse populations. I envision that this would take the form of a workshop to be held in the spring of 2011 that would involve the working group and invited participants working in medical genomics, medical ethics, and population genetics.

Recommended Reading

Biek, R., A. Drummond, M. Poss. 2006. "Virus reveals population structure and recent demographic history of its carnivore host." Science 311: 538-541.
Poss, M., H. A. Ross, S. L. Painter, D. C. Holley, J. A. Terwee, S. VandeWoude, and A. Rodrigo. 2006. "Feline lentivirus evolution in cross-species infection reveals extensive G to A substitution and selection on key residues in the viral polymerase." J Virol 80: 2728-2737.
Wittekindt, N., A. Padhi, S. Schuster, J. Qi, F. Zhao, L. Tomsho, L. Kasson, M. Packard, P. Cross, M. Poss. 2010. "Nodeomics: meta-transcriptomic exploration of a vertebrate microbiome." Submitted.