Download PDF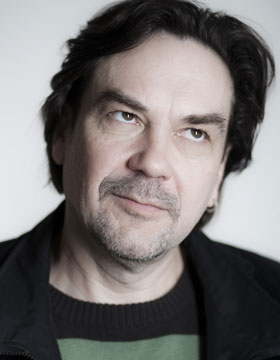 © Maurice Weiss, Ostkreuz
2008/2009
Juri Andruchowytsch
Author
Ivano-Frankivsk
Ukraine
Born in 1960 in Stanislav (today Ivano-Frankivsk), Ukraine;
Studium der Journalistik am Ukrainischen Polygraphischen Iwan-Fedorow-Institut, Lviv und Literatur am Maxim-Gorki-Literaturinstitut, Moskau
Project
A Little Geopoetic Encyclopaedia
Ich möchte eine Art "Enzyklopädie meiner Städte" schreiben. Dieses Projekt wäre vor allem eine neue Verkörperung meiner langjährigen Geopoetik - einer spezifischen Kreuzung von Literatur und Geographie, meiner persönlichen Version dessen, was Literaturwissenschaftler cognitive mapping nennen. Bis heute habe ich auf verschiedene Art und Weise 109 Städte erlebt. Unter diesen Städten sind Metropolen wie New York, Moskau, Paris und Berlin, einfach nur große Städte - cities im vollen Wortsinne (Hamburg, Warschau, Kiew, Zürich, Lissabon, San Francisco, Athen, München, Toronto), aber auch vergleichsweise etwas kleinere Städte mit einer kraftvollen kulturell-historischen Aura (Venedig, Lemberg, Odessa, Krakau, Prag, Antwerpen) und ganz kleine, die aber über eine eigene, besondere Legende verfügen (Marienburg, Urbino, Passau, Brügge, Lübeck). Außerdem Städte ohne Legenden und ohne Ruhm - wo mir aber etwas Unerwartetes und Unvermeidliches passiert ist. Die alphabetische Reihenfolge, in der sich die Städte in die Struktur des Buches einfügen werden, erlaubt es, überkommene Hierarchien und Koordinatensysteme aufzubrechen - vor allem die des Raums, denn Detroit wird sich neben Dnipropetrowsk wiederfinden, Izmir neben Kaliningrad, Marburg neben Minsk und Czernowitz neben Chicago. Nicht weniger interessant ist die Möglichkeit, die Zeiten zu vermischen, dank derer also Odessa des Jahres 1969 neben Osnabrück 2005 stehen wird, Prag 1968 neben Ravenna 1992, Bari 2004 neben Bayreuth 1994.

Lektüreempfehlung

Andruchowytsch, Juri. Das letzte Territorium. Essays. Aus dem Ukrainischen von Alois Woldan. Frankfurt/Main: Suhrkamp, 2003.
Andruchowytsch, Juri. Zwölf Ringe. Roman. Aus dem Ukrainischen von Sabine Stöhr. Frankfurt/Main: Suhrkamp, 2005.
Andruchowytsch, Juri. Moscoviada. Roman. Aus dem Ukrainischen von Sabine Stöhr. Frankfurt/Main: Suhrkamp, 2006.


Tuesday Colloquium, 28.04.2009
What Language are you from: A Writer among the Temptations of Transience
Please don't take this long title too seriously - I'm less concerned with a scientific style as such than with imitating one, or rather parodying one. The Ukrainian literature, about which I hope you will learn more from my lecture than you knew before, began as parody, incidentally. In 1798, the provincial civil servant, card player, and freemason Ivan Kotlyarevsky (1769-1838) learned that a pirated edition of his poem "Aeneid" had been published in Saint Petersburg and was enjoying great sales success. The language of the "Aeneid" was unlike any earlier published literary works of its time. It had no official status and was considered a southwestern dialect of Russian.

But Kotlyarevsky's parodistic demarche laid the foundation stone for a new literature and a new literary language. Poetry and poets were what enabled the Ukrainian language to survive and endure the period of official bans and administrative harassment. Fortunately, of all the arts, poetry is the one least dependent on institutional support. It arises directly, like breathing - inner necessity and talent suffice; everything else is less important. Additionally, and fortunately, poems can lead a full-fledged life outside of official publications, and even outside of written form.

Let me even presume to assert that, in periods of colonial dependence, not only Ukrainian literature, but also all of societal-cultural life in the Ukraine was poetry-centered. Poetry was a "space of being", developed as an antithesis to the material "space of existence" imposed by the ruling regime. In the face of the complete lack of freedom of the press, i.e., also of normal pluralistic journalism, poetry, in particular the illegally published "samvydav", fulfilled very concrete socially critical functions.

But at the same time and above all, the creation of poems fulfilled one of the most universal tasks of authorship: to defend the language and its phenomenality by resisting finiteness and provisionality. If you will permit me this image: it was an uninterrupted resuscitation. This is what I want to talk about.

Eveningcolloquium , 17.06.2009
Meine intime Städtekunde. Eine geopoetische Lesung. Juri Andruchowytsch im Gespräch mit Ingo Schulze
Publications from the Fellows' Library
Andruchowytsch, Juri
(
2015
)
Andruchowytsch, Juri
(
Berlin, 2014
)
Andruchowytsch, Juri
(
Sofija, 2009
)
Andruchowytsch, Juri
(
Lausanne, 2009
)
Andruchowytsch, Juri
(
Stuttgart, 2009
)
Andruchowytsch, Juri
(
Berlin, 2009
)
Andruchowytsch, Juri
(
Wydawnictwo czarne, 2008
)
Andruchowytsch, Juri
(
Wydawnictwo czarne, 2008
)
Andruchowytsch, Juri
(
Frankfurt am Main, 2008
)
Andruchowytsch, Juri
(
New York, 2008
)