Download PDF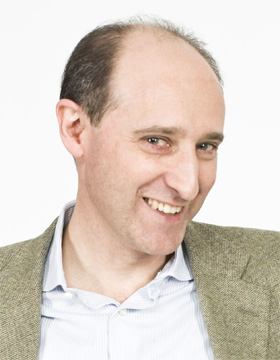 © Maurice Weiss
2007/2008
Raphael Rosenberg, Dr. phil.
Professor of Modern and Contemporary Art History
Ruprecht-Karls-Universität Heidelberg
Geboren 1962 in Mailand
Studium der Kunstgeschichte, Klassischen Archäologie und Ägyptologie an der Ludwig-Maximilians-Universität München und an der Universität Basel
Project
The Beholding of Paintings and Eye-Movements: Historic and Systematic Studies in the Psychophysiology of Aesthetic Experience
Seit Jahrhunderten wird bei der Beschreibung von Kunstwerken reflektiert, wie sich das Auge eines Betrachters verhält bzw. verhalten sollte. Besonders verbreitet war die Vorstellung von fließend und regelmäßig verlaufenden Blickbewegungen. Obwohl diese Idee seit der Entdeckung der anatomisch notwendigen "Sakkade" (sprunghafte Dynamik des Auges) im späten 19. Jahrhundert als irreführend gelten kann, wird sie in der Kunstliteratur teils bis heute weiter verwendet. Das Projekt verfolgt zwei sich gegenseitig bedingende Perspektiven:
1. Historischer Ansatz: Zuerst möchte ich untersuchen, seit wann, wie und warum die Bewegungen des Auges zur Beschreibung von Gemälden und zur Begründung kunsttheoretischer Aussagen verwendet wurden. Inwiefern dienen physiologische "Metaphern" als Ersatz für technische Begriffe, wie z. B. den der "Komposition"? Welche wahrnehmungspsychologischen Modelle haben seit dem 17. Jahrhundert die Kunstliteratur geprägt? Die Bestände der Berliner Bibliotheken liefern die Grundlage dieser Studie.
2. Systematischer Ansatz: Gemeinsam mit Kollegen aus der Psychologie und Neurologie untersuche ich psychophysiologische Prozesse, die sich im Verlauf der Betrachtung von Gemälden abspielen, um physiologische Korrelate der "ästhetischen Erfahrung" zu bestimmen. Der Aufenthalt am Wissenschaftskolleg soll dazu dienen, die in den Laboren (Heidelberg und Bangor) gewonnenen Daten auszuwerten und eine Publikation vorzubereiten.

Lektüreempfehlung

Rosenberg, Raphael. "Von der Ekphrasis zur wissenschaftlichen Bildbeschreibung: Vasari, Agucchi, Félibien, Burckhardt." Zeitschrift für Kunstgeschichte 58 (1995): 297-318.
Rosenberg, Raphael. Beschreibungen und Nachzeichnungen der Skulpturen Michelangelos: Eine Geschichte der Kunstbetrachtung. München: Deutscher Kunstverlag, 2000.
Rosenberg, Raphael. Turner, Hugo, Moreau: Entdeckung der Abstraktion. Katalog einer Ausstellung in der Schirn Kunsthalle Frankfurt, 5.10.2007-6.1.2008. München: Hirmer, 2007.

Tuesday Colloquium, 08.04.2008
How Do Our Eyes Move When We Look At Paintings?
In Antiquity, descriptions of works of arts already addressed how a viewer's eyes move or should move. My lecture presents preliminary results of a study and, like that study, is divided into two parts:

1. First I examine descriptions of works of art. I ask since when, how, and why eye movements have been taken as a theme in art literature. I show that, from the 1660s to today, slow movements of the eyes were described primarily in order to explain the structures of pictures - their "compositions" - and that extreme forms of this model have lastingly shaped art history from Diderot (1767) to this day.

Since the close of the 19th century, ophthalmologists have described how the human eye can perceive resting objects only by means of fixations, and that about three rapid leaps from fixation to fixation (saccades) are made each second. They thereby refuted on the physiological level the descriptions made by art historians; but art historians still have not given up their patterns of description.

2. In the second part of my lecture, I present the first statistical analyses of an empirical study. Using an eye tracker, we examined the gaze-motion behavior of test persons who viewed paintings for more than 15 minutes. At first glance, we find no systematic sequence of fixations as described by art historians; but analyzing the frequently repeated saccades makes it clear that we indeed structure paintings with our eyes.

Publications from the Fellows' Library
Rosenberg, Raphael
(
Oxford [u.a.], 2015
)
Rosenberg, Raphael
(
Stuttgart, Weimar, 2014
)
Rosenberg, Raphael
(
2014
)
Rosenberg, Raphael
(
Frankfurt, M., 2010
)
Rosenberg, Raphael
(
2007
)
Rosenberg, Raphael
(
Frankfurt, 2007
)
Rosenberg, Raphael
(
2006
)
Rosenberg, Raphael
(
2006
)
Rosenberg, Raphael
(
Roma, 2004
)
Rosenberg, Raphael
(
2004
)