Download PDF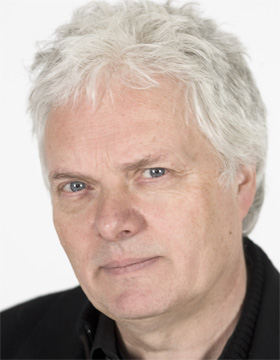 © Maurice Weiss
2007/2008
Heiner Goebbels
Professor of Applied Theatre Studies, Composer and Director
Justus-Liebig-Universität Gießen
Geboren 1952 in Neustadt a. d. Weinstraße, Deutschland
Studium der Soziologie an der Johann Wolfgang Goethe-Universität, Frankfurt/Main und der Musik an der Hochschule für Musik und Darstellende Kunst, Frankfurt/Main
Project
Composition of a Piece of Music Theatre for the Hilliard Quartet
Das Hilliard Quartett ist ein britisches a-capella Vokalensemble, das vor allem durch seine Interpretationen von Vokalmusik aus der Zeit vor 1600 weltbekannt geworden ist, seine Arbeit aber immer wieder auch zeitgenössischen Kompositionen widmet.
Die Komposition für das Hilliard Quartett, an der ich arbeiten werde, steht im Kontext meiner Arbeit an einer Form von Musiktheater jenseits der gewohnten Auffassung von Präsenz und Intensität, wie sie sich in Oper und Theater am hartnäckigsten hält. Dafür kann sich das Hilliard Quartett als geradezu ideales Ensemble erweisen, da seine Aufführungen ( bei höchster musikalischer Präzision und Kompetenz - von großer Zurückhaltung geprägt sind, und sich die Stimmen des Vokalensembles durch große Textverständlichkeit und Abwesenheit des opern-typischen Vibratos auszeichnen.
Die Komposition entsteht nicht aus einem Zentrum eines prioritären Textes, einer dramatischen Vorlage heraus, sondern zeitgleich mit der Arbeit am Libretto und der Inszenierung, die in mehreren Phasen im Laufe eines Jahres mit allen Beteiligten entwickelt wird.
Es handelt sich dabei um einen gemeinsamen Kompositionsauftrag der University of North Carolina, dem Hopkins Center, Dartmouth College, New Hampshire, dem Walker Arts Center, Minneapolis, dem Savannah Music Festival, Georgia und dem Wexner Center for the Arts, Ohio. Das Musiktheaterstück wird produziert vom Théâtre Vidy-Lausanne.
Im Akademischen Jahr 2007/08 sind in Berlin folgende Aufführungen geplant: 5. 10.-13. 10. 2007 Berliner Festwochen Spielzeit Europa, Haus der Berliner Festspiele: "The Pianopiece (Arbeitstitel) - eine Musiktheatermaschine".
2. 2. und 3. 2. 2008 Berliner Philharmoniker, Ltg. Simon Rattle: "Surrogate Cities", Arena, Berlin-Treptow.

Lektüreempfehlung

Goebbels, Heiner. Komposition als Inszenierung. Berlin: Verlag der Autoren, Frankfurt, 2002.

Hörempfehlung

Goebbels, Heiner. Eislermaterial (CD), mit dem Ensemble Modern und Joseph Bierbichler, ecm 1979.
Goebbels, Heiner. Surrogate Cities (CD), mit der Jungen Deutschen Philharmonie, ecm 1688.

Publications from the Fellows' Library
Goebbels, Heiner
(
München, 2007
)
Goebbels, Heiner
(
2004
)
Goebbels, Heiner
(
München, 2002
)
Goebbels, Heiner
(
Berlin, 2002
)
Goebbels, Heiner
(
Gräfelfing, 2000
)
Goebbels, Heiner
(
1994
)
Goebbels, Heiner
(
München, 1994
)
Goebbels, Heiner
(
München, 1993
)
Goebbels, Heiner
(
[Gräfeling], 1993
)
Goebbels, Heiner
(
München, 1988
)