Download PDF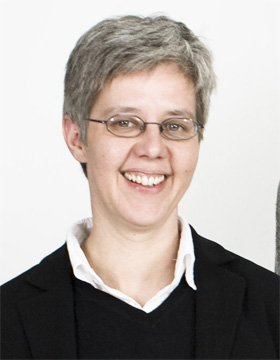 © Maurice Weiss
2007/2008
Petra Dobner, Dr. rer. pol.
Political Science
Martin-Luther-Universität Halle-Wittenberg
Geboren 1964 in Homberg, Deutschland, Studium der Medizin, Philosophie und Politikwissenschaft an der Freien Universität Berlin
Focus
Constitution Beyond the Nation State
Project
Competing for the Political: On the Constitutionability of the Partners, Rivals, Enemies, and Inheritors of the State
Das Ende des staatlichen Monopols auf das Politische erzeugt ein zentrales verfassungstheoretisches Dilemma: Der normativ gehaltvolle, moderne Verfassungsbegriff, in dem die Fähigkeiten zur Herrschaftsbegründung und -begrenzung mit einem universalen und umfassenden Geltungsanspruch verbunden sind, ist nicht nur ursprünglich, sondern auch funktional auf den territorialen Staat bezogen. Verfassungsbegriffe der postnationalen Konstellation, die sich auf den Staat nicht länger verlassen können, müssen daher entweder zu Gunsten einer Realitätsanpassung Einbußen bezüglich ihres normativen Gehalts hinnehmen oder umgekehrt auf Kosten einer wachsenden Entfernung von der Wirklichkeit normativ beharrlich bleiben.
In der Praxis wird die Größe dieses Dilemmas von der Konstitutionalisierbarkeit "Politischer Komplexe" abhängen: Mit dem Sammelbegriff der "Politischen Komplexe" bezeichne ich den amorphen Kreis inner- und transstaatlicher Akteure, die als Partner, Konkurrenten, Feinde oder gar Erben des Staates mit legalen und illegalen, legitimen und illegitimen Mitteln in Bezug auf zahlreiche Gegenstände und für unterschiedliche Interessenten heute mit um die Gestaltung der globalen Polis streiten. Unter Konstitutionalisierbarkeit soll sowohl die Konstitutionsbedürftigkeit als auch die Konstitutionsfähigkeit verstanden werden.
Eine Klassifizierung politischer Komplexe sowie das Nachdenken über die Möglichkeit ihrer verfassungsrechtlichen Einhegung stehen im Zentrum des Projekts.

Lektüreempfehlung

Dobner, Petra. "Constitutionalization and the Transformation of the State." In The Politics of Constitutional Reform in North America: Coping with New Challenges, herausgegeben von Rainer-Olaf Schultze und Roland Sturm, 33-44. Opladen: Leske und Budrich, 2000.
Dobner, Petra. Konstitutionalismus als Politikform. Zu den Effekten staatlicher Transformation auf die Verfassung als Institution. Baden-Baden: Nomos, 2002.
Dobner, Petra. "Terror als Politik - Terror statt Politik? Über konkurrierende Ansprüche auf das Politische." In Terror, Krieg und die Folgen: Perspektiven aus den Wissenschaften, herausgegeben von Dorothée de Nève, Petra Dobner, Stefan Göhlert und Reinhard Wolf, 17-32. Frankfurt et al.: Peter Lang, 2002.

Tuesday Colloquium, 11.03.2008
Crossing Jordan: Global Water and Transnational Constitutionalism
Transnationaler Konstitutionalismus steht für den Versuch, rechtlich wieder einzufangen, was dem Staat politisch entkommt: die alleinige Verantwortung für die öffentlichen Dinge. Das öffentliche Ding schlechthin war bis vor einigen Jahren das Trinkwasser. Selbst neoliberalen Autoren schien es geradezu undenkbar, die Verantwortung für Wasser zu privatisieren. Dennoch setzte 1992 ein Prozess der Transnationalisierung und Privatisierung sowohl für die Regulierung als auch für die Bewirtschaftung von Trinkwasserressourcen ein, der diesen Bereich öffentlicher Daseinsvorsorge gleichsam "aus dem Staat" trieb. Exemplarisch lassen sich daher am Wasser Momente der Globalisierung aufspüren, die empirisch verfolgt werden müssen, wenn man theoretisch begreifen will, vor welchen Herausforderungen das Projekt eines transnationalen Konstitutionalismus steht.
Publications from the Fellows' Library
Dobner, Petra
(
Berlin, München, Bosten, 2015
)
Dobner, Petra
(
2015
)
Dobner, Petra
(
2010
)
Dobner, Petra
(
Berlin, 2010
)
Dobner, Petra
(
Oxford [u.a.], 2010
)
Dobner, Petra
(
2009
)
Dobner, Petra
(
Berlin, 2009
)
Dobner, Petra
(
Leverkusen, 2008
)
Dobner, Petra
(
[s.l.], 2008
)
Dobner, Petra
(
Wiesbaden, 2007
)