Download PDF
2006/2007
Andreas Voßkuhle, Dr. iur.
Professor of Public Law
Albert-Ludwigs-Universität Freiburg
Geboren 1963 in Detmold, Germany
Studium der Rechtswissenschaft an der Universität Bayreuth und an der Ludwig-Maximilians-Universität München

Project
The Rational State
Die Veränderung von Staatlichkeit im Zeitalter der Globalisierung lässt sich mit traditionellen Kategorien wie z. B. dem völkerrechtlichen Staatsbegriff offensichtlich nicht mehr angemessen beschreiben. Begreift man die Etablierung und
Verdichtung von Staatlichkeit als Prozess der Rationalisierung, dann könnte aber vielleicht die historisch informierte Untersuchung über die Art und Weise der staatlichen Wissensgenerierung fundiertere Aussagen über die Handlungsfähigkeit
des Staates am Anfang des 21. Jahrhunderts ermöglichen. Dieser Vermutung soll im Rahmen einer interdisziplinär angelegten Studie näher nachgegangen werden. Von besonderem Interesse sind dabei die Veränderungen der rechtlichen Rahmenbedingungen der staatlichen Wissensgenerierung. Recht verkörpert nicht nur institutionalisiertes Wissen, es steuert aus Sicht des Staates auch maßgeblich den Prozess seiner Gewinnung und Verwendung. Dabei wird man auch fragen müssen, inwieweit Vorstellungen über abrufbares oder formal generiertes Wissen nicht ergänzt werden müssen um sozio-emotionale
und intuitive Elemente der Entscheidungsfindung, die sich teilweise ebenfalls in der Rechtsordnung niederschlagen (können). Entscheidend wird aber letztlich sein, inwieweit der Staat weiterhin als wichtiger Produzent von Denkkategorien Macht über die Wahrnehmung und die legitime Definition der sozialen Welt besitzt.

Lektüreempfehlung

Voßkuhle, Andreas. "Der 'Dienstleistungsstaat': Über Nutzen und Gefahren von Staatsbildern." Der Staat 40 (2001): 495-523.
-. "Beteiligung Privater an der Wahrnehmung öffentlicher Aufgaben und staatliche Verantwortung." VVDStRL 62 (2003): 266-335.
-. "Sachverständige Beratung des Staates." In Handbuch des Staatsrechts der Bundesrepublik Deutschland, Bd. III, herausgegeben von Josef Isensee und Paul Kirchhof, 425-475. Heidelberg: Müller, 2005.
Tuesday Colloquium, 21.11.2006
What is "Staatswissenschaft" and What is it For?
I. The Dislocation of the Theory of the State within the Science of Public Law
1. Older disciplinary conceptions: encyclopedic "Staatswissenschaften" and "Allgemeine Staatslehre"
2. Dominance of the "Juridical Method" and its characteristics

II. Weighing the Central Objections to "Allgemeine Staatslehre"
1. The loss of the object of research: "Staatslehre" without the "State"
2. Farewell to universals
3. Substitution: constitutional law instead of "Staatslehre"
4. Methodological syncretism and the differentiation of the disciplines
5. A specifically "German" discipline lacks international compatibility

III. The Necessity for an Interdisciplinary Frame of Reflection for Legal Issues of the Order of the Community
1. Europeanization and internationalization of public law
2. Europeanization and internationalization of legal science
3. Shift of emphasis: from interpretation to lawmaking
4. Back to the future: from the encyclopedic "Staatswissenschaften" through the "Allgemeine Staatslehre" to the "Neue Staatswissenschaft"

IV. How Can the Change in Statehood be Described and Analyzed?
1. In search of disciplinary identity: the received juridical concept of the state
2. Another perspective: the connection between statehood and the generation of knowledge
a) The modern state's promise of rationality
b) The decreasing reliability of the state's basis of knowledge
c) The regulation of state generation of knowledge

V. Instead of a prospect: three problems in state knowledge management
1. Productive links between the state's instrumental and orientation knowledge
2. Converting state knowledge from implicit into explicit
3. Knowledge and national language


Publications from the Fellows' Library
Voßkuhle, Andreas
(
München, 2016
)
Voßkuhle, Andreas
(
Hannover, 2013
)
Voßkuhle, Andreas
(
München, 2013
)
Voßkuhle, Andreas
(
2011
)
Voßkuhle, Andreas
(
München, 2011
)
Voßkuhle, Andreas
(
2009
)
Voßkuhle, Andreas
(
2009
)
Voßkuhle, Andreas
(
München, 2009
)
Voßkuhle, Andreas
(
München, 2008
)
Voßkuhle, Andreas
(
2007
)
Yearbook Article
2006/2007
Lectures & Keynotes
10/29/10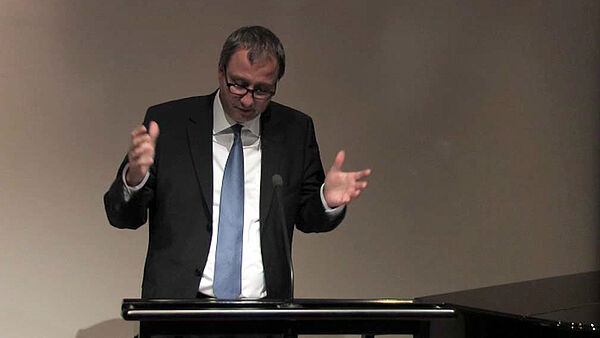 Andreas Voßkuhle, Warum ist Europawissenschaft so schwierig?
Workshop (Convener)
01/10/19
Verfassungsgerichte und politischer Wandel