Download PDF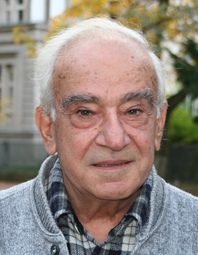 2006/2007
Fuad Rifka, Dr. phil.
Author, Professor of Philosophy
Lebanese American University, Beirut
Born on December 28, 1930 in Kafroun (Tartus) Syria; passed away on Mai 14, 2011 in Beirut.
Studium der Philosophy, Oriental Studies und GermanStudies in Beirut und Tübingen
Project
Translating an Anthology of Contemporary German Poetry into Arabic
Ich plane, eine Anthologie deutscher Lyrik des 20. Jahrhunderts zusammenzustellen und ins Arabische zu übertragen. Bei der Auswahl der Gedichte soll einerseits der Geschmack arabischer Leser berücksichtigt werden, andererseits soll der spezifische Charakter deutscher Gegenwartslyrik deutlich werden.
Bei der Übersetzung ins Arabische gibt es vor allem zwei Probleme: a) Die Übersetzung, insbesondere von Lyrik impliziert die Übertragung einer bestimmten kulturellen Atmosphäre in eine völlig andere Kultur. b) Zum Wesen des Gedichts gehört ein dunkler Sinnhorizont, der nicht restlos fassbar ist. Selbst der Dichter kann diesen häufig nicht erklären.
Deshalb kann auch der Übersetzer nur eine Interpretation liefern. Idealerweise ist er selbst Dichter, sodass er den Text nachschaffen und seine Abgründigkeit erahnen lassen kann.
Nachdem die Übertragung abgeschlossen ist, müssen die Rechte für die Veröffentlichung eingeholt werden, was viel Geduld und Zeit erfordert. Darüber hinaus muss für den Druck der Anthologie, der in Beirut erfolgen soll, finanzielle Unterstützung gefunden werden. Die Anthologie soll zweisprachig, Deutsch-Arabisch, erscheinen. Die Auflage wird ca. 1200 Exemplare betragen. Während meines Aufenthalts am Wissenschaftskolleg zu Berlin möchte ich mich so viel wie möglich der deutschen Kultur aussetzen: Schriftsteller und Lyriker kennen lernen, Galerien und literarische Veranstaltungen besuchen, Lesungen geben usw. Auch würde ich gerne arabische Schriftsteller einladen, damit sie die deutsche Kultur unmittelbar erfahren können.
Ich bin sicher, dass mein Aufenthalt am Wissenschaftskolleg sehr fruchtbar sein wird. Ich freue mich darauf, meinen Wissensdurst gegenüber der
deutschen Kultur zumindest zeitweise stillen zu können.

Lektüreempfehlung

Rifka, Fuad. Tagebuch eines Holzsammlers: Gedichte; arabisch und deutsch. Ausgew. u. übertr. von Ursula und Simon Yussuf Assaf. Eisingen: Heiderhoff, 1990 (Lyrikreihe "Das neueste Gedicht"; N.F., 31).
-. Gedichte eines Indianers: arabisch und deutsch. Übertr. von Ursula und Simon Yussuf Assaf. Mit einem Nachw. von Karl Neuwirth. Eisingen: Heiderhoff, 1994 (Lyrikreihe "Das neueste Gedicht"; N. F., 38).
-. Das Tal der Rituale: ausgewählte Gedichte, arabisch-deutsch. Hrsg. und mit einem Nachw. vers. von Stefan Weidner. Aus dem Arab. von Ursula und Simon Yussuf Assaf sowie von Stefan Weidner. Straelen: Straelener Manuskripte Verlag, 2002 (Straelener Manuskripte; N. F. 16).
Tuesday Colloquium, 22.05.2007
On the way to poetry translation
1. Why the German poem?
2. The way leading to the German poem
3. Tübingen and the earthquake
4. Whether poetry translation is possible (difficulties: technical and creative)
5. The origin of the poem
6. Poetry translation as interpretation
7. The German poem in the Arab world
8. Monologue
Publications from the Fellows' Library
Rifka, Fuad
(
Beirut, 2008
)
Rifka, Fuad
(
2007
)
Rifka, Fuad
(
2007
)
Rifka, Fuad
(
Berlin, 2006
)
Rifka, Fuad
(
Straelen, 2002
)
Rifka, Fuad
(
Paris, 2001
)