Download PDF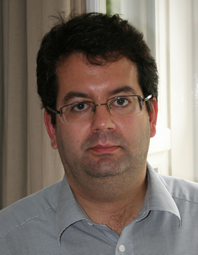 2006/2007
Johannes Niehoff-Panagiotidis, Dr. phil.
Professor of Byzantine Studies and Balkan Studies
Central European University, Budapest
Born in 1963 in Recklinghausen, Germany
Studium der Klassischen Philologie, Vergleichenden Sprachwissenschaft und Byzantinistik an der Universität Tübingen
Project
Narrating the Empire: Byzantine Historiography Between Hellenistic Tradition and Living Experience
Die byzantinische Literatur ist immer noch die große Unbekannte unter den europäischen Literaturen: Viele, auch exemplarische Texte sind unediert, die literarische Erforschung ihrer Textmengen aus über einem Jahrtausend steckt erst in den Anfängen. Meine Forschung versucht, rezente Ansätze narratologischer und dekonstruktionistischer Herkunft auf die griechische Literatur
des Mittelalters anzuwenden, und zwar unter einer bestimmten Perspektive: die byzantinische Literatur, vor allem die theologische, ist die Wurzel der slawischen Literaturen (mit Ausnahme der polnischen) und wurde unter den orthodoxen Slawen, vor allem in Russland, übersetzt, nachgeahmt und zum Vorbild erhoben. Mein Projekt am Wissenschaftskolleg nimmt sich dabei ein Genre, die Historiografie, heraus, das von den Byzantinern als exemplarisch empfunden wurde und versucht, die Krisenerfahrung der hochmittelalterlichen Zeit zur Ausgangsfrage zu machen: Wie haben die mittelalterlichen Griechen
das Ende ihres Reiches erlebt und narrativ bewältigt? Wie haben sie die verschiedenen Lösungen an die slawischen Tochterkulturen weitergegeben? Dabei wird ein Rekurs auf die traditionellen Mittel der Philologie unumgänglich sein
(Handschriftenstudium, Textvergleich, Übersetzungstechnik), wie es generell mein Ziel ist, die angestammte Methodik in einem neuen Rahmen weiterzuführen. Das Ziel ist, die spezielle Narrativik jener Weltgegend zu erfassen, die zumeist negative Schlagzeilen macht, deren kultureller Reichtum einer breiten Öffentlichkeit immer noch unbekannt ist: des Balkans, zu dem
Griechenland nur widerwillig gehören mag.

Lektüreempfehlung

Niehoff-Panagiotidis, Johannes. "Landwirtschaft und ihre Fachsprache im Altertum: eine Übersicht." In: Fachsprachen: Ein internationales Handbuch zur Fachsprachenforschung und Terminologiewissenschaft. 2. Halbband, herausgegeben von L. Hoffmann, H. Kalverkämper und H. E. Wiegand, 2292-2304. Berlin und New York: de Gruyter, 1999 (Handbücher zur
Sprach- und Kommunikationswissenschaft).
-. "Die byzantinisch-neugriechischen und spanischen Adaptionen von 'Kalîla wa-Dimna'." In Übersetzung und Rezeption. Wiesbaden: Reichert, 2003 (Serta Graeca. Beiträge zur Erforschung griechischer Texte, Bd. 18) .
-. "Byzantinische Lebenswelt und neugriechische Hermeneutik: Die byzantinischen Juden in der Kairoer Genizah." Byzantion 74, 1 (2004): 51-109.
Publications from the Fellows' Library
Niehoff-Panagiotidis, Johannes
(
Berlin, 2010
)
Niehoff-Panagiotidis, Johannes
(
2010
)
Niehoff-Panagiotidis, Johannes
(
2006
)
Niehoff-Panagiotidis, Johannes
(
Wiesbaden, 2003
)
Niehoff-Panagiotidis, Johannes
(
2001
)
Niehoff-Panagiotidis, Johannes
(
1999
)
Niehoff-Panagiotidis, Johannes
(
1999
)
Niehoff-Panagiotidis, Johannes
(
1999
)