Download PDF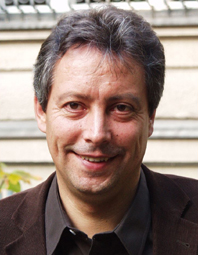 2004/2005
Ottmar Ette, Dr. phil.
Professor of Romance Studies
University of Potsdam
Geboren 1956 in Zell, Schwarzwald
Studium der Romanistik und Geographie an der Albert-Ludwigs-Universität Freiburg und an der Universidad Complutense, Madrid
Project
Life Knowledge: Trans-cultural and Transdisciplinary Spaces of Knowledge of Literature
Literatur kann in ihren unterschiedlichsten Schreibformen als ein sich wandelndes, dynamisches und zugleich interaktives Speichermedium von Lebenswissen verstanden werden. Das dreistufige, sich in drei miteinander eng zusammenhängende Bereiche aufgliedernde Projekt soll zeigen, dass es für die wissenschaftliche Beschäftigung mit Literatur ein anspruchsvolles und bisherige Konzeptionen von Literaturwissenschaft erweiterndes Ziel ist, möglichst umfassende und komplexe Bereiche dieses gespeicherten Wissens zu erschließen und für unser Denken und Handeln heute fruchtbar zu machen. Die Philologie kann in diesem Bedeutungszusammenhang zu einer Lebenswissenschaft werden, zumal ihre Zukunft nicht unwesentlich davon abhängt, wie sie ihr Verhältnis zum Leben bestimmt. Literatur erschließt Lebenswissen narrativ vorrangig als Erlebenswissen. Im Vordergrund des Vorhabens stehen transkulturelle Formen von (Er-)Lebenswissen in Literaturen ohne festen Wohnsitz sowie transdisziplinäre Untersuchungen europäischer wie außereuropäischer Gegenwartsliteraturen, die von "Kreuzungen" literarischer und wissenschaftlicher Diskursformationen (unter Einbeziehung von Anthropologie und Philosophie, Geschichts-, Gesellschafts- und Biowissenschaften (in besonderer Weise geprägt sind.

Lektüreempfehlung
Ette, Ottmar. Roland Barthes: Eine intellektuelle Biographie. Frankfurt/Main: Suhrkamp, 1998 (edition suhrkamp 2077).
-. Weltbewusstsein: Alexander von Humboldt und das unvollendete Projekt einer anderen Moderne. Weilerswist: Velbrück, 2002.
-. ÜberLebenswissen: Die Aufgabe der Philologie. Berlin: Kadmos, 2004.
Tuesday Colloquium, 22.02.2005
Literatures without a Fixed Abode
In his 1952 festschrift essay with the programmatic title "Philology of World Literature," Erich Auerbach - author of "Mimesis: The Representation of Reality in Western Literature", composed between May 1942 and April 1945 in his Istanbul exile - sketched the outlines of a philology that in the wake of the Second World War would elucidate the "profound changes in the general condition of life" and afford "insight into their total significance" and suggest "the practical consequences" to be drawn therefrom. Important for this German-Jewish emigrant - who starting in 1947 taught Romance languages and literatures at various US-American universities - was a critical development of Goethe's concept of Weltliteratur (world literature), which, as Auerbach well knew, was in large part conceived by Germany's national poet as a foil to the dominant concept of national literature. Goethe's remark of 31 January 1827 was paradigmatic: "National literature has not much relevance today, the epoch of world literature is now dawning, and everyone should do what he can to accelerate its arrival." There can be no doubt that it was Erich Auerbach's concern, against the backdrop of the historical events of his time, to make his own contribution to a new era of world literature. In the context of the current fourth phase of accelerated globalization, it is necessary to keep in view the manifold world-literary developments and to above all focus on those dynamic processes that have gone largely unobserved or been considered irrelevant and marginal, enfolded as they are within the hitherto bipolar and antagonistic distinction between world and national literature. Here, the literatures without a fixed abode propose new insights in cultural practices and theories.
Publications from the Fellows' Library
Ette, Ottmar
(
2010
)
Ette, Ottmar
(
2007
)
Ette, Ottmar
(
Berlin, 2005
)
Ette, Ottmar
(
Frankfurt am Main, 2004
)
Ette, Ottmar
(
Frankfurt am Main, 2004
)
Ette, Ottmar
(
Frankfurt am Main, 2004
)
Ette, Ottmar
(
Berlin, 2004
)
Ette, Ottmar
(
2003
)
Ette, Ottmar
(
Amsterdam [u.a.], 2003
)
Ette, Ottmar
(
München, 2003
)
Yearbook Article
2004/2005
Zeitschrift für Ideengeschichte
Russischer Herbst
Heft X/3 Herbst 2016