Download PDF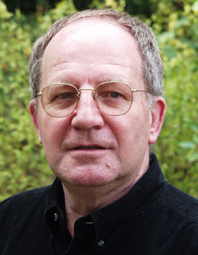 2004/2005
Karl Clausberg, Dr. phil.
Professor (emer.) of Image Science
Leuphana Universität Lüneburg
Geboren 1938 in Eisenach, Thüringen
Studium der Kunstgeschichte, Archäologie und Philosophie an der Universität Hamburg, am Warburg Institute, London und an der Universität Wien
Focus
Image Science
Project
"A Microscope for Time." What Benjamin and Klages, Einstein and the Cinema Owe to the Stars
Ausgehend von einer Goya-Studie (2001) im Städel-Jahrbuch und anderen in Druck befindlichen Schriften zum Verhältnis von Physiologie und Phantasie arbeite ich an einer Geschichte des Blicks als Bildwissenschaft. In diesem Zusammenhang bin ich auf die grundlegende Rolle astronomischer Fortschritte und Spekulationen im 19. Jahrhundert aufmerksam geworden, die den gemeinsamen Hintergrund für so verschiedenartige spätere Errungenschaften wie Einsteins spezielle Relativitätstheorie, aber auch für die eigenartig melancholischen Rück- und Fernblicke Benjamins und Klages' lieferten. Insbesondere hat es mir ein "alter Berliner" - der Jurist und Amateurastronom Felix Eberty - angetan, der, zwanzig Jahre vor Camille Flammarion, 1846/47 das Konzept eines unablässig laufenden "kosmischen Kinos", eines von kriminalistischen Bildarchiven gefüllten Weltenraums zwischen den Sternen, entworfen hat. In der phantastischen Verschränkung von technisch/wissenschaftlichem Fortschritt (erste exakte Fixsternentfernungsmessungen 1838-42) und imaginärer Freisetzung von hypothetischen Betrachtern im Weltenraum (zeitgleich mit Edgar Allan Poes Heureka-Schrift, die gegenwärtig unter Kosmologen Furore macht) sehe ich einen hochbedeutsamen rezenten Gegenpol zu den Jahrtausende überspannenden Astrologieforschungen, wie sie etwa im Warburg-Umkreis betrieben worden sind. Diesen biographisch in Berlin verankerten Problemkomplex will ich an Ort und Stelle bis in alle erreichbaren Details recherchieren.

Lektüreempfehlung
Clausberg, Karl. "Endocalypse Now! Physik, Phantasie und Kunstgeschichte in der 'Dekade des Gehirns'." In Radical Art History: Internationale Anthologie. Subject: O. K. Werckmeister, herausgegeben von Wolfgang Kersten, 56(97. Zürich: ZIP, 1997.
-. Neuronale Kunstgeschichte: Selbstdarstellung als Gestaltungsprinzip. Wien: Springer, 1999.
-. "Zwischen Hexensabbath und Psychoanalyse: Goyas 'sueño de la razon' und Carl du Prels 'dramatische Spaltung des Ich im Traume'." Städel-Jahrbuch NF Bd. 18 (2001): 213-250.
Tuesday Colloquium, 02.11.2004
Having Gombrich in Mind: A Short History of Art and Neuroscience
To keep Gombrich in mind while exploring the forgotten, re-emergent and evermore-exciting aspects of neuroscience is a tantalizing task. Of all the top-ranking 20th-Century art historians, Gombrich appears to have been the one most interested in the psychology of perception. Yet one looks in vain for a cursory - let alone comprehensive - discussion of the wet brainware enabling us to achieve those amazing albeit puzzling feats of vision which Gombrich never ceased to explore. It is no secret that Gombrich preferred to see the physical brain (in the manner of behaviourism) as a "black box", its operations being inaccessible to introspection as well as to external scrutiny. Hence he never bothered to include in his profuse writings even a single reproduction or an up-to-date diagram illustrating cerebral functions. This worrying denial could easily brand his attitude as a typical mid-20th-Century "ignoramus, ignorabimus" version of Emil DuBois-Reymond's famous refutation of the chances to ever answer certain key questions concerning the relation of human nature with the natural sciences. Nevertheless, Gombrich's case seems far from being settled by simply listing his omissions and shortcomings. Obviously, his scientific convictions were deeply entangled with the tragic political events of his time, which forced him to leave Austria (and eventually to become director of the Warburg Institute in London). Less obvious are some initial conditions of his intellectual biography. They seem to be rooted in what has been called "Viennese indeterminism", meaning the new probabilistic treatment of observed phenomena in physics, which permeated not only the contemporary humanities, but also the neurosciences. They have left an unmistakable fingerprint - I believe - in Gombrich's ways of thinking and arguing. My work-in-progress-report will therefore address these oblique and veiled circumstances in order to sketch a more comprehensive background to Gombrich's outspoken convictions and tacit implications.
Publications from the Fellows' Library
Clausberg, Karl
(
Hildesheim, 2020
)
Clausberg, Karl
(
2015
)
Clausberg, Karl
(
2014
)
Clausberg, Karl
(
2014
)
Clausberg, Karl
(
2011
)
Clausberg, Karl
(
2009
)
Clausberg, Karl
(
2009
)
Clausberg, Karl
(
2008
)
Clausberg, Karl
(
Berlin, 2006
)
Clausberg, Karl
(
2004
)