Download PDF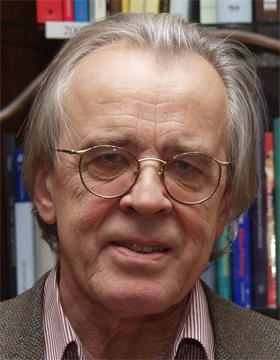 2003/2004
Klaus Reichert, Dr. phil.
Professor (emer.) of Literary Studies, Director
Center for Research on Early Modern History at the University of Frankfurt
President of the German Academy for Language and Poetry, Darmstadt
Geboren 1938
Studium der Philosophie und verschiedener Sprachen in Marburg, London, Berlin, Gießen und Frankfurt
Project
"Silence"
Die Thematik des Schweigens beschäftigt mich schon lange, ausgelöst durch die wachsende Bedeutung der Pausen in der Musik (Beethoven, Schubert) und die Komposition der Stille (John Cage, Luigi Nono) einerseits und die Poesie des Verstummens (Beckett, Celan) andererseits. Zumal über die Arbeiten von Cage über "Silence" (in dem Wort verschränken sich Schweigen und Stille) kam mir der Gedanke, der Thematik in ihren geschichtlichen Variationen nachzugehen, denn lange bevor das Schweigen als Konstituens in die Ästhetik aufrückte, hatte es eine schwer festzulegende, aber geradezu fundierende Bedeutung für Philosophie, Religion und Recht.
New Translation of Hiob
Der Hiob ist eines der schwierigsten Bücher der Bibel - oft unverständlich bis unsinnig, oft fragmentiert, manchmal kann ein Satz auch das Gegenteil heißen. Den Übersetzungen - außer den trocken gelehrten - sieht man die Schwierigkeiten und Dunkelheiten nicht an, sie lesen sich glatt und kohärent, der Wechsel von Vers und Prosa ist nicht sichtbar. Ich möchte versuchen, den Text so zu übersetzen, dass der Eindruck des Originals entsteht. Ziel ist es, aus einem "Klavierauszug" wieder eine "Partitur" zu machen, wie es Rosenzweig und Buber für ihre Übersetzung vorschwebte.

Lektüreempfehlung
Reichert, Klaus. Vielfacher Schriftsinn: zu Finnegans Wake. Frankfurt/Main: Suhrkamp, 1989.
-. Das Hohelied Salomons. Salzburg: Residenz, 1996.
-. Der fremde Shakespeare. München: Hanser, 1998.
-. Die unendliche Aufgabe: zum Übersetzen. München: Hanser, 2003.
Tuesday Colloquium, 25.02.2004
Was heißt übersetzen? Die unendliche Aufgabe an Beispielen aus der Bibel und des deutschen Shakespeare
Publications from the Fellows' Library
Reichert, Klaus
(
Göttingen, 2010
)
Reichert, Klaus
(
2008
)
Reichert, Klaus
(
Göttingen, 2007
)
Reichert, Klaus
(
Frankfurt am Main, 2007
)
Reichert, Klaus
(
Salzburg, 2005
)
Reichert, Klaus
(
Berlin, 2004
)
Reichert, Klaus
(
Frankfurt am Main, 2004
)
Reichert, Klaus
(
München, 2003
)
Reichert, Klaus
(
Salzburg, 2001
)
Reichert, Klaus
(
München, 1998
)
Yearbook Article
2003/2004
Zeitschrift für Ideengeschichte
Intelligence Import/Export
Heft XI/4 Winter 2017