Download PDF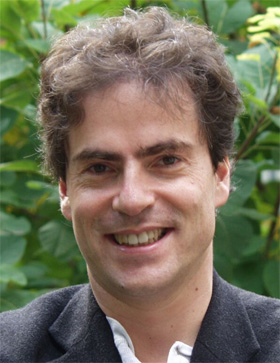 2003/2004
Stefan Litwin, DMA
Professor of Piano, Chamber Music and Interpretation with Emphasis on New Music
Hochschule für Musik Saar, Saarbrücken
Geboren 1960 in Mexiko-Stadt
Studierte Klavier und Komposition an der Musikakademie Basel und an der State University of New York und Interpretation/Kammermusik an der University of Cincinnati
Project
Lecture-Recitals on Piano Music by Ludwig van Beethoven
Vor etwa einem Jahr wurde in Koproduktion mit dem SWR Baden-Baden mit einer DVD-Gesamteinspielung der Klaviersonaten Beethovens begonnen. Die einzelnen Werke (oder Werkgruppen) werden dabei mit einem einführenden Text versehen, der insbesondere auf interpretatorische Aspekte ausgerichtet ist und durch Partiturabbildungen, Skizzenmaterial und andere Quellen ergänzt wird. Das Jahr am Wissenschaftskolleg soll ermöglichen, einen größeren Anteil dieses Projektes zu realisieren.
Composition of a Work for Soloists and Ensemble
Außerdem soll eine größere Komposition für das Trio Accanto entstehen. Grundlage dazu bildet "Dos lid funm ojsgehargetn jidischn folk" von Jizchak Katzenelson, ein im Warschauer Ghetto verfasstes episches Gedicht über die Vernichtung des europäischen Judentums.

CD-Aufnahmen
Deutsche Grammophon, Auvidis/Montaigne, col legno, telos music, cpo, Hänssler, u.a.
Tuesday Colloquium, 23.03.2004
Compositions. Rein oder unrein? (2001) Satire for 4 voices
I was asked to contribute to a festschrift planned for Nuria Schoeneberg Nono's 70th birthday. Shortly before, I had carried out a few public workshops with her in which works by her father were discussed and worked through. During one of these phases of work, a heated discussion broke out among the participants; gradually two parties took shape, one defending the tempered system, the other vehemently favoring the scale of natural over tones. Even after an hour, it seemed impossible to end the quarrel. So the workshop ended without any deeper insight. On the way back to the hotel, Nuria began improvising in the style of her father's "Satires" for choir, underlaying the melody with words like "pure", "impure", "too high", "too low", etc. In this moment, I knew what my contribution to the festschrift would look like: a satire for four voices on the topic of intonation, a musical dispute that would humoristically push to the limits of what can be realized in song, but which would nonetheless remain delineable and, last but not least, would also be comprehensible when merely read. <br>
Thoreau's Nightmare (2003)
"I live in the angle of a leaden wall, into whose composition was poured a little alloy of bell metal. Often, in the repose of my mid-day, there reaches my ears a confused tintinnabulum from without. It is the noise of my contemporaries."
These words, taken from Henry David Thoreau's Walden, serve as a motto to "Thoreau's Nightmare". A commission by the WDR Cologne, the music was written in early 2003 at the height of tensions between the US and Europe over the pending war in Iraq. The music is a critical commentary on these most troubling of times. It is also a tribute to the old New England transcendentalist who had envisioned a more peaceful American nation.<br>
Contrasting episodes of original material are interwoven with quotations from Charles Ives's "Thoreau" and popular political tunes. They follow no explicit path, but wander aimlessly from moment to moment, much like scenes in a dream. <br>
Shortly after completing the score and searching for a title, I asked a friend what might be associated with the term "Thoreau's Nightmare". The immediate and unmitigated answer was: "The Bush administration!" Then and there, I knew that this title would work.<br>
Lyon 1943 (Pièce de Résistance) (1999)
Impressed by the revolt of the weavers who, under the slogan "vivre en travaillant ou mourir en combatant", took to the streets against the slavery-like conditions in Lyon, Franz Liszt composed a heroic virtuoso piece in 1832. In C major, with excessive thundering of octaves and Marseillaise-like themes, this piece today seems somewhat threadbare and thus can no longer be performed without comment. It seemed to me that a new context had to be created, since even a modernizing interpretation could not solve the problem of such transience. So I decided to compose a musical commentary in the form of a postlude; I didn't realize that an autonomous composition would develop that would burst the bounds of its model in temporal extension, playing technique, and sound material. This seems to have been a conclusion that I drew from the new significance that the city of Lyon had attained in the further course of history, which was to become the true source of material for my work. <br>
In World War II, namely, Lyon took on the epithet "Capitale de la Résistance", since this was the hiding place of the headquarters that organized the resistance against the Vichy regime and the German occupation. By means of encoded messages broadcast by the BBC into occupied France, the resistance stood in constant contact with de Gaulle in London. The knocking motif from Beethoven's 5th Symphony was thuddingly struck at the beginning of the daily broadcast; in Morse code, the rhythm "short-short-short-long" represents the letter "V", a symbol for "Victory".
Out of this motif, coupled with fragments from Liszt's Lyon, the Marseillaise, and Germany's national anthem, the Deutschlandlied, a funeral music developed, a modest contribution by a descendant who remains unsatisfied with remembrance in the form of well-intentioned rituals, because they threaten to rigidify what has happened into a cliché.
Publications from the Fellows' Library
Litwin, Stefan
(
Hamburg, 2014
)
Litwin, Stefan
(
Mechernich, 2013
)
Litwin, Stefan
(
Schiffweiler, 2013
)
Litwin, Stefan
(
2008
)
Litwin, Stefan
(
Göttingen, 2008
)
Litwin, Stefan
(
Mechernich, 2007
)
Litwin, Stefan
(
Mechernich, 2006
)
Litwin, Stefan
(
2006
)
Litwin, Stefan
(
[s.l.], 2004
)
Litwin, Stefan
(
Mechernich, 2004
)