Download PDF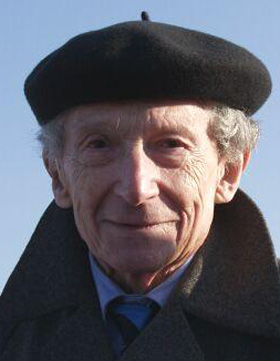 2003/2004
Isidor Levin, Dr. phil.
Dr. phil., Professor (emer.) of Folklore Studies
St. Petersburg
Born on September 20, 1919 in Daugavpils (Dünaburg, Lettland); passed away on July 24, 2018 in Hamburg.
Studium der Philosophie und Theologie an der Universität Tartu (= Dorpat), Estland
Project
Systems of Documentation for Yiddish Studies
Neuerdings gibt es an mehreren deutschen Universitäten etablierte Lehrstühle für "Jiddistik". Es gibt aber noch keine allgemein kompatible Methodik zwecks Dokumentation der Quellen und kein neues analytisches Verfahren für künftige Forscher.
Ich weiß, dass die EU beschlossen hat, ein zentrales europäisches Institut für die schwindende jiddische Sprache und Kultur in Straßburg zu gründen. Leider fehlt es an Erfahrungen, allein schon für den Entwurf eines Konzepts für so ein gesamteuropäisches Vorhaben.
In den drei Monaten meines Aufenthalts am Wissenschaftskolleg wäre es mir wohl möglich, ein volkskundliches Dokumentationssystem qua Forschungsprogramm vorzulegen. Ich bin bereit, gestützt auf verifizierte nüchterne Theorien, meine reichen Erfahrungen bei der analytischen Erfassung folkloristischer Kollektionen der Akademien der Wissenschaften in Tadschikistan und Armenien, nun auch in das europäisch-jüdische Projekt zu investieren, und zwar in Fortführung der volkskundlichen vergleichenden geographisch-historischen ("finnischen") Schule meines verewigten Lehrers, Walter Anderson, Dorpat (*1885 in Minsk, +1962 in Kiel). Vide meinen Nachruf in: Deutsches Jahrbuch für Volkskunde 9 (1963): 293-311.

Lektüreempfehlung
Levin, Isidor. "Folkloristic Documentation, Textology and Editorial Principles: Methodological Paths from Fieldwork to Computeraided Corpus." In Storytelling in Contemporary Societies, herausgegeben von Lutz Röhrich und Sabine Wienker-Piepho, 215-224. Tübingen: G. Narr, 1990. (Script Oralia, 22)
-. "What Needs to be Done in Folktale Research?" In Folklore: New Perspectives, herausgegeben von Jawaharlal Handoo and Reimund Kvideland, 289-305. Mysore, India: Zooni, 1999.
Siehe meine deutsche Urfassung: "Was ist in der Erzählforschung zu tun und wie ist es zu tun?" Vortrag auf dem ISFNR Weltkongress 1995.
-."Märchen und Juden." Märchenspiegel: Zeitschrift für internationale Märchenforschung und Märchenpflege 9 (1998): 49-53.
Zur Person siehe: Enzyklopädie des Märchens. Berlin. Sub voce: Levin, Isidor.
Publications from the Fellows' Library
Levin, Isidor
(
Sankt-Peterburg, 2011
)
Levin, Isidor
(
2011
)
Levin, Isidor
(
2011
)
Levin, Isidor
(
2011
)
Levin, Isidor
(
Budapest, 2011
)
Levin, Isidor
(
Sankt-Peterburg, 2010
)
Levin, Isidor
(
2009
)
Levin, Isidor
(
Sankt-Peterburg, 2003
)
Levin, Isidor
(
2003
)
Levin, Isidor
(
2003
)