Download PDF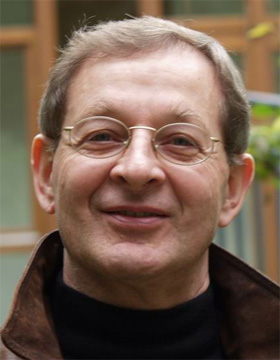 2002/2003
Péter Nádas
Writer
Gombosszeg, Hungary
Born in 1942 in Budapest
Project
Parallel Stories: Structure and Narrative Patterns of a Novel
Mich hat der Gedanke nicht mehr losgelassen, dass sich die Prosa als Magd des kausalen Denkens ausschließlich mit dem befasst, was geschieht, obwohl doch auch das, was nicht geschieht, in unserem Leben einen riesigen Platz einnimmt.
Was nicht geschieht, obwohl es prinzipiell geschehen könnte, muss nicht unbedingt als Ausbleiben eines möglichen Geschehens zutage treten, da es ja in seinen Konsequenzen genauso unwiderruflich, verhängnisvoll oder schwerwiegend sein kann wie all das, was geschieht. Andererseits, wenn mit uns etwas nicht geschieht, dann geschieht uns doch das Ausbleiben des Geschehens. Wir können auch umgekehrt darüber nachdenken: wenn wir das Gefühl haben, jetzt geschieht uns gerade etwas ganz Außergewöhnliches, nur wissen wir nicht, warum, warum gerade jetzt, warum nicht einem anderen, warum gerade uns, dann stehen wir vielleicht unter Wirkung eines Geschehens, dessen Akteure und treibende Kräfte wir gar nicht kennen, und dennoch wirken diese fremden Kräfte in uns, das heißt, sie geschehen außerhalb der sichtbaren Kausalität.
Genauso wirken auch wir in undurchschaubarer Reziprozität auf uns Unbekannte, die genauso wenig wissen, was sie davon halten sollen.

Lektüreempfehlung
Nádas, Peter. Ende eines Familienromans: Roman. Frankfurt a.M.: Suhrkamp, 1979. Engl. Übersetzung: The End of a Family Story: a Novel. New York: Farrar, Straus and Giroux, 1998 und London: Jonathan Cape, 1998.
-. Buch der Erinnerung: Roman. Berlin: Rowohlt, 1991. Engl. Übersetzung: A Book of Memories: a Novel. New York: Farrar, Straus and Giroux, 1997 und London: Jonathan Cape, 1997.
-. Heimkehr: Essays. Reinbek bei Hamburg: Rowohlt-Taschenbuch-Verlag, 1999.
Eveningcolloquium
Der eigene Tod. Lesung und Diskussion
Publications from the Fellows' Library
Nádas, Péter
(
Reinbek bei Hamburg, 2012
)
Nádas, Péter
(
Reinbek bei Hamburg, 2012
)
Nádas, Péter
(
New York, 2011
)
Nádas, Péter
(
Berlin, 2009
)
Nádas, Péter
(
Pécs, 2005
)
Nádas, Péter
(
2004
)
Nádas, Péter
(
2004
)
Nádas, Péter
(
2003
)
Nádas, Péter
(
2003
)
Nádas, Péter
(
Frankfurt am Main, 2003
)