Download PDF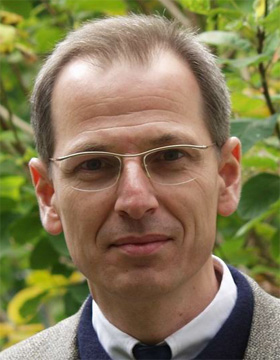 2002/2003
Reinhard G. Kratz, Dr. theol.
Professor of the Old Testament
Georg-August-Universität Göttingen
Born in 1957 in Offenbach a.M.
Study of Greek Philology and Evangelical Theology in
Frankfurt a.M., Heidelberg and Zürich
Project
Israel and Judaism. A History of Jewish Tradition in the Hebrew Bible
Das Thema des geplanten Buches ist die - historische und theologische - Frage, wie aus der Religion des alten Israel die jüdische Tradition wurde. Die Frage zielt auf eine konsequente Unterscheidung zwischen dem Israel der Geschichte und dem Israel des Glaubens und Bekennens in den Schriften der hebräischen Bibel/des Alten Testaments. Mit Hilfe archäologischer, epigraphischer und ikonographischer Daten sowie der Kritik der literarischen Quellen werden die Reste der israelitischen und judäischen Religion nach verschiedenen Bereichen (Prophetie, Weisheit, Hymnen und Gebete, Recht, Kult, Erzählung) rekonstruiert, historisch und theologisch in ihrem zeitgeschichtlichen Kontext interpretiert und daraufhin befragt, wie aus ihnen die in der hebräischen Bibel überlieferte, aus jüngerer Zeit stammende Traditions- und Auslegungsliteratur entstanden ist, auf der die Religion des Judentums basiert.

Hinweis für Mit-Fellows
Besonders interessiert bin ich am Austausch über religionsgeschichtliche, historische und archäologische Daten aus dem Raum des (antiken) Vorderen Orients, das Rezeptions- und Traditionswesen in Judentum, Christentum und Islam sowie in der griechisch-römischen Antike, Prozesse und Möglichkeiten der Rekonstruktion von Literaturwerdung (mit und ohne empirische Grundlage), Theorien der historischen Rekonstruktion und der Fiktionalität von historischer (literarischer) Überlieferung.

Lektüreempfehlung
Kratz, Reinhard Gregor. Die Komposition der erzählenden Bücher des Alten Testaments. Grundwissen der Bibelkritik. UTB 2157, Göttingen: Vandenhoeck und Ruprecht, 2000.
-. Kyros im Deuterojesaja-Buch. Redaktionsgeschichtliche Untersuchungen zu Entstehung und Theologie von Jes 40-55. Forschungen zum Alten Testament 1. Tübingen: Mohr-Siebeck, 1991.
-. Translatio imperii. Untersuchungen zu den aramäischen Danielerzählungen und ihrem theologiegeschichtlichen Umfeld, Wissenschaftliche Monographien zum Alten und Neuen Testament 63. Neukirchen-Vluyn: Neukirchener Verlag, 1991.
Tuesday Colloquium, 10.12.2002
Israel und das Judentum im Alten Testament
Publications from the Fellows' Library
Kratz, Reinhard G.
(
Winona Lake, Indiana, 2006
)
Kratz, Reinhard G.
(
Tübingen, 2004
)
Kratz, Reinhard G.
(
München, 2003
)
Kratz, Reinhard G.
(
Göttingen, 2003
)
Kratz, Reinhard G.
(
Gütersloh, 2002
)
Kratz, Reinhard G.
(
2000
)
Kratz, Reinhard G.
(
2000
)
Kratz, Reinhard G.
(
Berlin, 2000
)
Kratz, Reinhard G.
(
Göttingen, 2000
)
Kratz, Reinhard G.
(
Göttingen, 2000
)